ARE YOU VISITING HARRINGWORTH?
YOU WILL FIND PLENTY TO DO IN THIS BEAUTIFUL AND TRANQUIL PART OF THE COUNTRY
PICTURESQUE MARKET TOWNS
UPPINGHAM | STAMFORD | OAKHAM | OUNDLE | MARKET HARBOROUGH
BEAUTIFUL COUNTRYSIDE FOR WALKING, CAMPING & CYCLING
Visitors to Harringworth & Shotley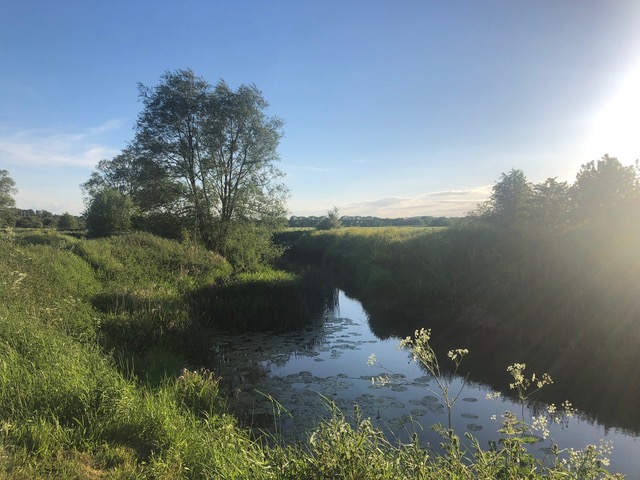 Harringworth & Shotley are located in East Northamptonshire on the border with Rutland and they are ideally located for exploring the local area. This includes some beautiful countryside, fantastic for walking and cycling, some lovely market towns (Uppingham, Stamford, Oundle, Oakham and Market Harborough) which are rich in tradition and history, stately homes, gardens, museums and heritage sites. There is also a wealth of leisure and sporting activities available, all supported by lovely country pubs and restaurants to suit all tastes.
Some local highlights include Rutland Water, Eyebrook Reservoir, Deene Park and Kirby Hall,  Lyddington's Bede Hall, Fineshade and Wakerley woods, Rockingham Forest, Rockingham Castle and, for walkers, the Jurassic Way …
The countryside has a wide variety of landscapes and is full of wildlife including rare dragonflies, damselflies, and of course, deer. Ancient woodlands and limestone grasslands in the forested areas are rich in wild flowers.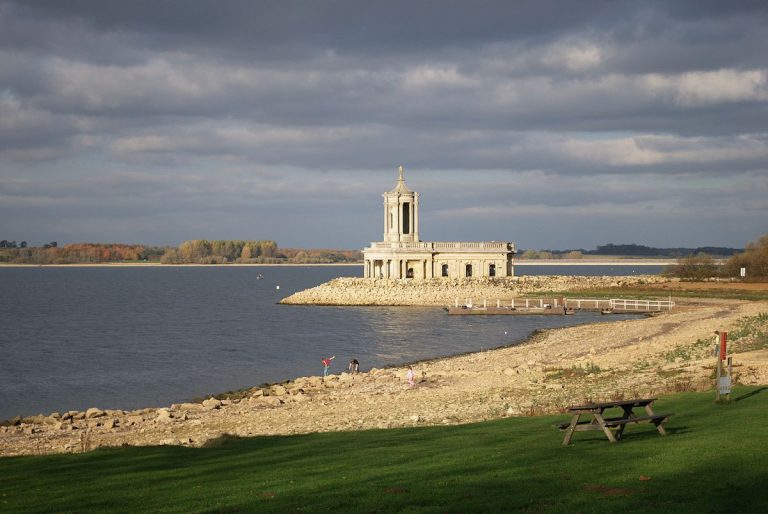 Just seven miles away, Rutland Water Park is a wonderful place to enjoy time in the great outdoors. Whether you are looking for some adrenalin-fuelled fun or a relaxing break from the daily hustle and bustle, Rutland Water Park has  what you're looking for.
Set around beautiful Rutland Water and covering 4,200 acres of open countryside, the park offers everything from walking and cycling to fishing and watersports. There is also our fantastic nature reserve, managed by the Leicestershire and Rutland Wildlife Trust and home to the Rutland Osprey Project.
Expert or novice, everything you need to make the most of your visit is right here, including cycle hire and expert tuition on boat handling.
And of course, you will also find a choice of places to enjoy a cuppa or a bite to eat.
Thank you to Richard Adams for allowing us to include his Rutland Water Nature Reserve Dawn to Dusk video.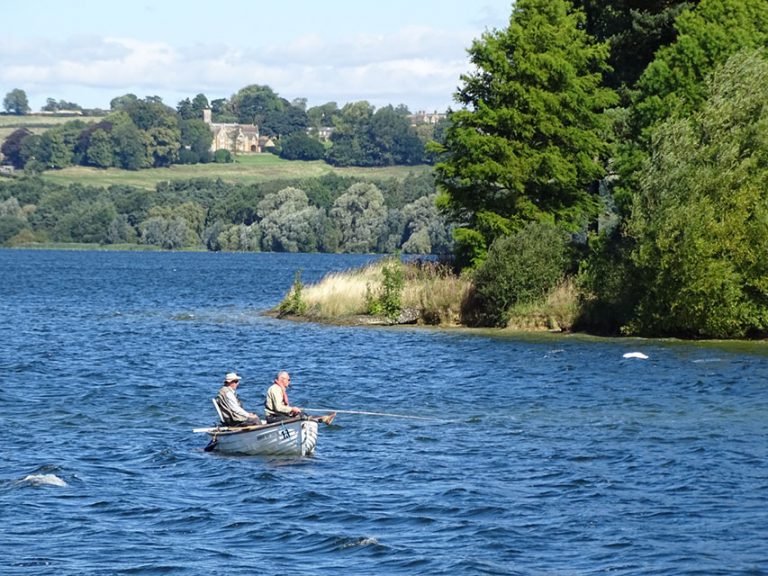 Eyebrook Reservoir (or Eye Brook Reservoir) is a 201.3-hectare (497-acre) reservoir and biological Site of Special Scientific Interest which straddles the border between Leicestershire and Rutland, and is between Corby and Uppingham.
The reservoir was formed by the damming of the Eye Brook. It was built between 1937 and 1940 by Stewarts & Lloyds to supply water to their Corby steel works, now part of Tata Steel, formerly Corus. During the Second World War it was used in May 1943 as a practice site for the Dambuster raids.
The reservoir is an important site for wintering wildfowl, such as wigeon, teal, mallard and pochard. Other habitats are marsh, mudflats, grassland, broad-leaved woodland and plantations. Other species reported from the reservoir include osprey, smew, dunlin and European golden plover. In passage periods scarcer species can be attracted to the reservoir's shores and these regularly include curlew sandpiper, ruff and spotted redshank among the expected waders. Vagrants which have occurred include seabirds such a Leach's petrel and Northern gannet, as well as squacco heron, black-crowned night heron American wigeon, black-winged pratincole, killdeer and a variety of other species, mostly associated with wetlands.
There is no public access to the reservoir, which is reserved for a trout fishery, but it can be viewed from a public footpath which runs along part of the eastern side.
Eyebrook Reservoir is a popular trout fishing venue. The reservoir is regularly stocked with triploid rainbow trout and is home to a native brown trout population. Fly fishing for pike also takes place at the reservoir.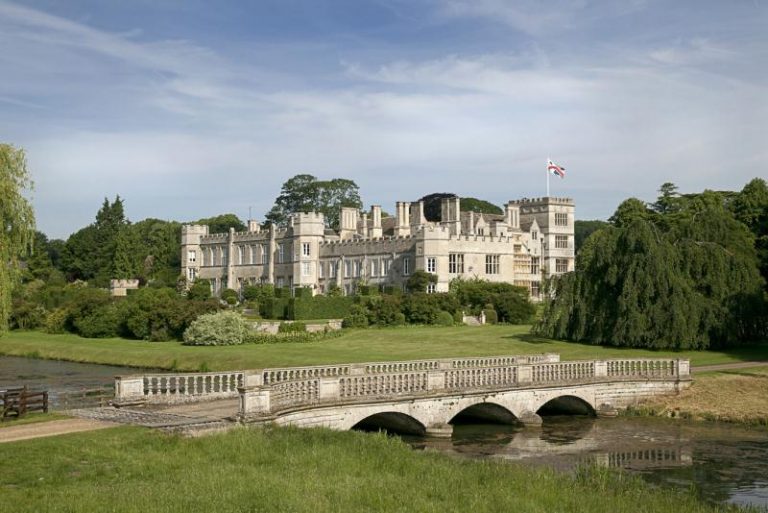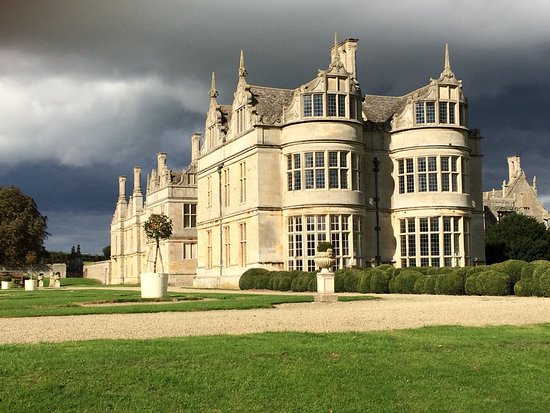 Deene Park, the seat of the Brudenell family since 1514, is a country manor located five miles northeast of Corby in the county of Northamptonshire, England. The hall dates back to the 14th century.
Seven of the Brudenell family were Earls of Cardigan — the most notable being the 7th Earl who led the Charge of the Light Brigade at the Battle of Balaclava (1854). The 7th Earl died childless in 1868, and the Deene Park estate passed to the descendants of his second cousin Ernest Brudenell-Bruce, 3rd Marquess of Ailesbury.
The estate was inherited by its current owner, Robert Brudenell, in 2014; he is the son of Edmund and Marian Brudenell, who devoted their lives to the rehabilitation of Deene Park and are largely responsible for the estate's present appearance.
Kirby Hall is one of England's greatest Elizabethan and 17th-century houses, once owned by Sir Christopher Hatton, Lord Chancellor to Queen Elizabeth I.
Although this vast mansion is partly roofless, the walls show the exceptionally rich decoration that proclaims that its successive owners were always at the forefront of new ideas about architecture and design.
The Great Hall and state rooms remain intact, refitted and redecorated to authentic 17th- and 18th-century specifications.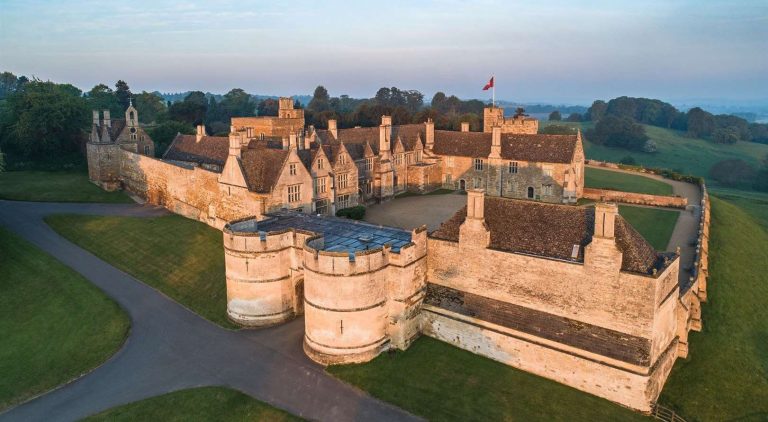 William the Conqueror ordered a motte and bailey castle to be built at Rockingham around 1070. The castle has welcomed many Kings and Queens including Richard the Lionheart, King John, Edward I, and Queen Eleanor. Their lasting influence can still be seen in many parts of the castle and grounds today.
In 1544 Henry VIII granted Rockingham Castle to Edward Watson who turned it into a family home. Since then, for almost 500 years, Rockingham Castle has remained in the hands of the Watson family. The castle saw action during the Civil War and later, Charles Dickens, a family friend, performed plays here.
Today the castle is the home of James and Elizabeth Saunders Watson and their three children, the direct descendants of Edward Watson.
There are many things to see and do at Rockingham today, come and explore the dynamic history Rockingham has to offer:
castle tour 
gift shop
tea rooms
castle gardens
Walking in Northamptonshire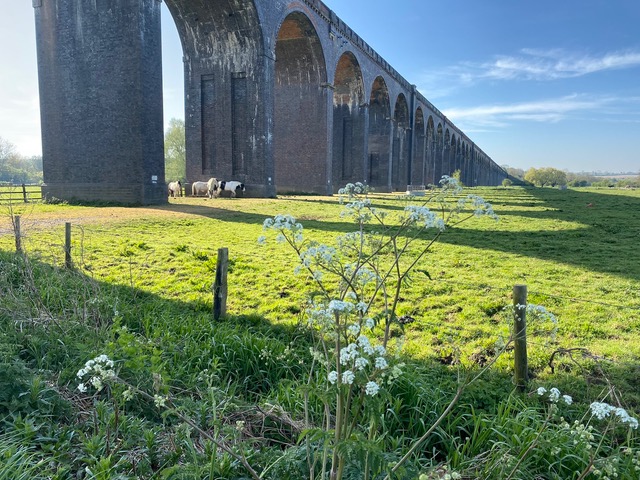 Walking in Northamptonshire with John Harris
Use the link below to find  all the information you need to get walking in beautiful Northamptonshire: