NEWS IN HARRINGWORTH & SHOTLEY
Did you get a chance to see the Steam Train go over the viaduct?
This was the first steam train for nearly two years and many people came out to see her.
John Hillier from Barrowden has been involved in the restoration of the Bahamas Locomotive with the support of the National Heritage Lottery Fund (alongside the Flying Scotsman) and was lucky enough to ride on the footplate and took the image you can see below from the viaduct to add to his collection.
John Hillier is giving the illustrated talk in the Church for us on Friday 3rd December –  "Harringworth Viaduct – A Victorian Gem" which promises to be very interesting.
More information on the talk is given below.
FUNDRAISING IN HARRINGWORTH & SHOTLEY
It seems such a long time since we last gathered together to prepare for fundraising events in Harringworth. At a recent Appeals Fund Committee meeting we realised that without new members of the Committee the way forward is challenging. To address this we plan to send out an email with information about the Appeals Fund – how its work, examples of events and why we need your help!
Plans are coming together for the December Talk and Steam Day events and we have many people on board to help already and will be asking for further helpers in the next week or so.
We are very excited that our successful 'Made in Harringworth' craft and produce will be available at the Steam Event in the Church on Sunday 5th December. We hope this gives us all enough time to get busy and perhaps get together to sew, bake and create for our stall.
Debbie Waterworth has kindly offered to design a Made in Harringworth Stamp so we can label our craft and she is also designing a Harringworth Christmas Card – how exciting!!
Ideas you may wish to contribute include: Chutney, Jam, Apple Juice, Mini Christmas Cakes, Notelets, Christmas Cards, Dog Biscuits, Cakes, Mince Pies. We know many of you have hidden talents so other Craft ideas are very welcome,
If you have ideas, would like to host a craft day or get more involved please email the Harringworth Appeals Committee on the link below.
Harringworth Viaduct – A Victorian Gem
Tickets are now available for the talk: 'Harringworth Viaduct – A Victorian Gem' by John Hillier (from Barrowden) on Friday 3 December in the Church (7.00pm).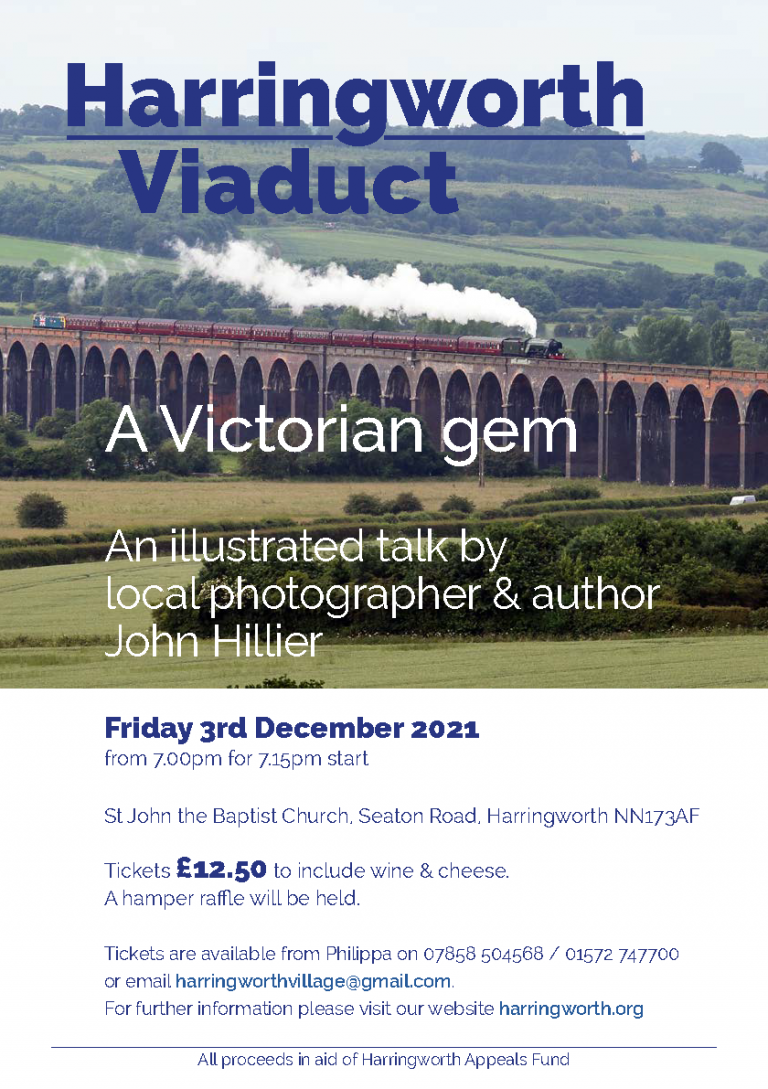 HARRINGWORTH & SHOTLEY Village Hall
The Trustees of the Village Hall are delighted that bookings are gradually returning to the Hall with several exercise classes already planned in the diary. Please message if you have any ideas for using the Hall or wish to make a booking. Email: harringworthvillagehall@gmail.com
REGULAR ACTIVITIES IN THE VILLAGE HALL
Pilate-a-Cise with Cathy every Monday (6:00pm – 7:00pm) and Thursday (10:00am – 11:00am)
Table tennis every Tuesday (2:30pm – 4:30pm) and Thursday (5:00pm – 7:00pm)
Purestretch with Dawn every Tuesday, 6:45pm – 7:45pm
Beginners yoga class every Wednesday, 2:00pm – 3:00pm
If you have an idea for a class or would like to know more about these activities email  harringworthvillagehall@gmail.com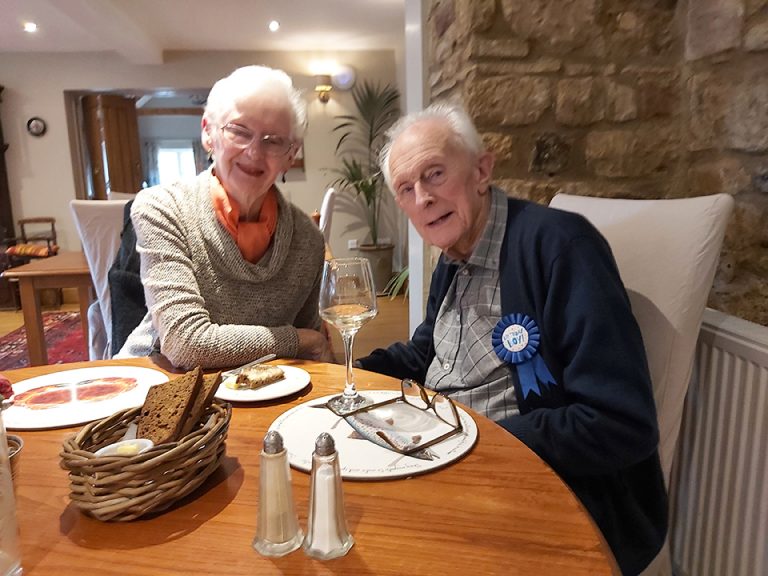 Wishing Ken Frankland a very Happy 90th Birthday.  This delightful picture was taken with his wife Maggie last Monday – the first time they have been out for a meal for a very long time.
A message from Ken & Maggie: Thank you to all the friends and villagers who so kindly sent such an array of lovely cards, gifts, calls and visits wishing him a happy birthday. It really made his day. He says he is now aiming for his 100th.
Congratulations to David Reading for winning £100 with the 100 Club in October and thank you to Debbie Waterworth for drawing '17' – the winning number.
This is the last draw for the 2020/2021 100 Club and a new set of numbers are available for £25 each in aid of the Harringworth Appeals Fund. It is not too late to join the 2021/2022 100 Club – to apply for a number just email harringworthvillage@gmail.com or complete the form that dropped through your door recently.
APPLE PRESSING DAY – SATURDAY 6 NOVEMBER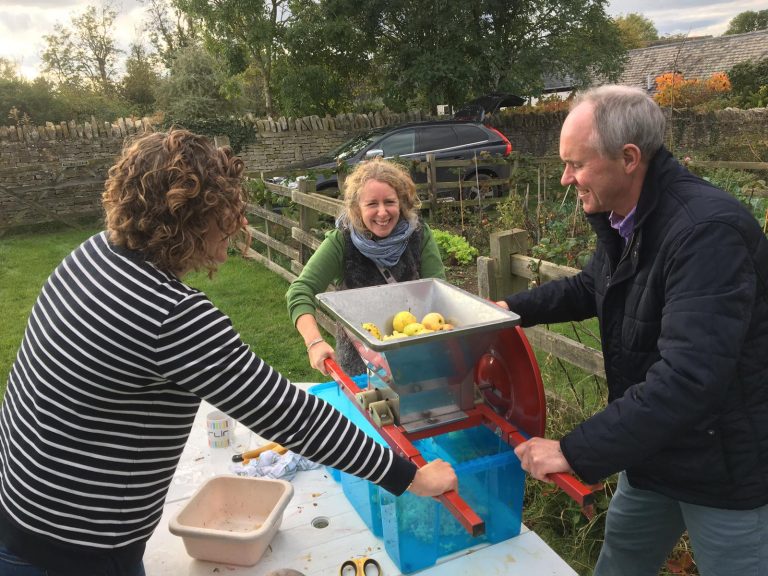 This will be held in Maggie Hill's Orchard behind Drakes Barn just off Gretton Road using the Village Apple Press, Apple Crusher and Pasteuriser.
If you don't have your own apples to press, Maggie and John are very kindly offering to share their apples. You can also pick some in Claire's Garden on Wakerley Road ahead of the day, which she is also very happy to share.
Please bring along clean empty wine bottles with screw top lids or clean plastic milk bottle cartons.  There will be a chance for you to chop and press apples and to take some home to either freeze or pasteurise with the community pasteuriser.
Please let Claire  know if you can come on 07811 424430
Hope to see you there !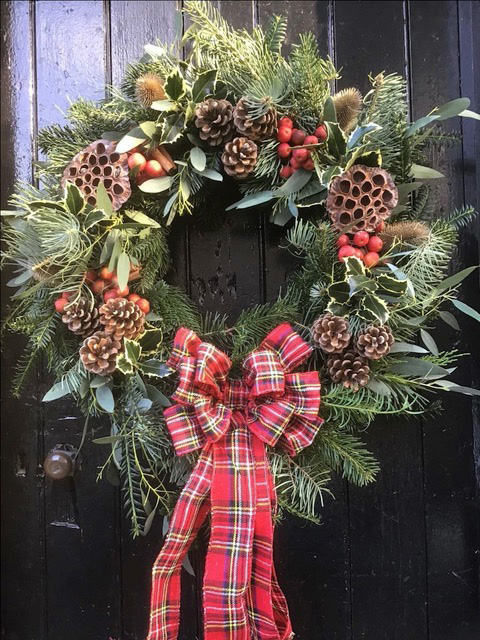 Marie & Tracy will be making Christmas wreaths to order again this year – any size small, medium, large and jumbo! They are super quality and will be delivered to your door on the date you want them.

Call Marie on 07939 921 461 or Tracy on 07891 309 611.