HARRINGWORTH & SHOTLEY News and what's on
Welcome to our newsletter for late Summer.  With so many news stories, forthcoming events and dates for the diary you may like to sit down with a coffee – happy reading!!
Saturday 19th November 13.00 – 17.00
We are very excited about our Christmas Artisan Market this Saturday in Harringworth Parish Church (NN17 3AF) and look forward to seeing you for an afternoon full of Christmas cheer!
Local Artisans will showcase beautiful Liberty print accessories, art, ceramics, toys, handmade Christmas wreaths and stunning handcrafted wooden grazing boards, and so much more.  
In addition you can browse the "Made in Harringworth" local produce and gifts including jam, chutney, Christmas bulbs and delicious homemade cakes.  As ever the Harringworth Hamper Raffle will be centre stage filled with food, wines, chocolates and more.
The Harringworth Christmas Café is serving hot drinks, homemade cakes, sausage rolls, mince pies and mulled wine.
Please come along to support these creative businesses and let us put you in the Christmas spirit!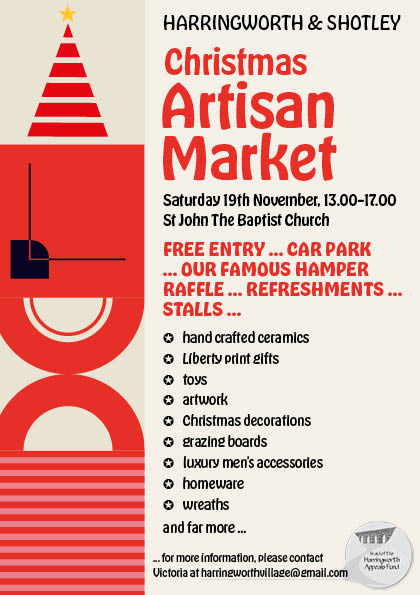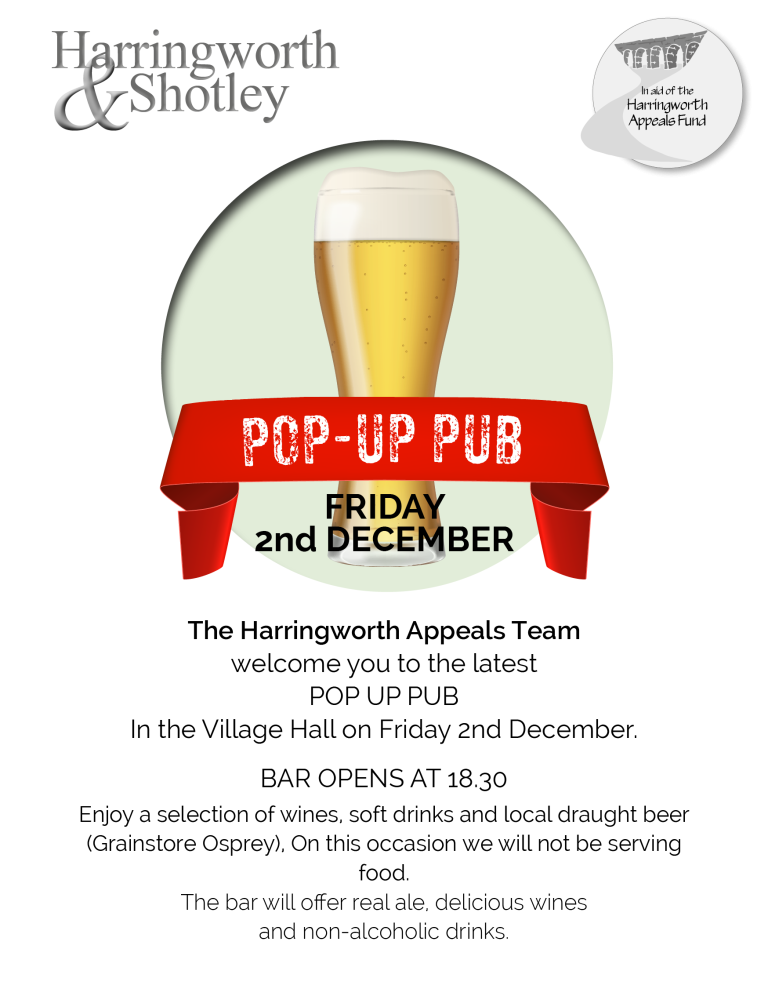 TWO MORE POP UP PUBS PLANNED
FRIDAY 2 DECEMBER
Our next Pop Up Pub will be on Friday 2 December in the Village Hall with the Bar open from 6.30pm. Enjoy a selection of wines, soft drinks and local draught beer (Grainstore Osprey). On this occasion we will not be serving food.
BURNS NIGHT ON WEDNESDAY 25 JANUARY 2023
The first Pop Up Pub in 2023 organised by the Appeals Team will celebrate BURNS NIGHT and will include the traditional Haggis with Neaps and Tatties on the menu.  SAVE THE DATE: Wednesday 25 January 2023
'A fun night of cocktails and canapés'
Another great night at Harringworth Ladies Group last week – many thanks to Louise Crean who ran a fab and fun decoupage workshop!
Our Christmas event is 'A fun night of cocktails and canapés'! Create your own cocktails and canapés from a larder we're providing, Masterchef style.
All you need to bring is your ideas and creativity to make your own concoctions… and even better you get to taste them at the end!
Join us on Wednesday 7 December at the Village Hall from 7.30pm to 9.30pm. The cost is £5 and please feel free to bring a friend!
Ingredients and glasses provided.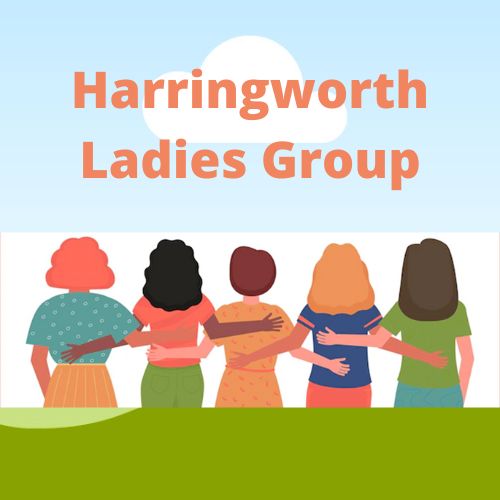 Donations for the Corby Foodbank are always welcomed and you can place your donation in the Children's Play area in the Church for collection by Bernadette Oakey.
HARRINGWORTH VILLAGE HALL
The Village Hall is available for booking over the Summer for get togethers – such as a party, children's playtime, table tennis and much more.  Some exercise classes are having a summer break and returning in September – so you can always meet as a group for your own exercise or coffee. We now have a bundle of children's games for hire which include Giant Jenga, rounders and hoop on cones etc. Email the
Village Hall
to enquire. Regular activities in the Village Hall:
Table Tennis

on a Tuesday from 2.30 – 4.30pm

PureStretch

on a Tuesday at 6.30pm 

FitSteps

with Amy on a Wednesday at 5.00pm

Table Tennis

on a Thursday from 5.00 – 7.00pm

Harringworth Ladies

on the first Wednesday of the month
If you would like to see additional exercise classes in the Village Hall please email the
Village Hall
 with suggestions. For further information, please see the
Village Hall
section of this website. or email
Village Hall
to enquire.
Uppingham Surgery Waiting Room
The Surgery has reinstated the waiting room. For appointments enter the building through the main front doors and book in at the reception desk. The waiting area is sign posted just along the ground floor corridor to the left. Wait here for the doctor or nurse to come and call you in for your appointment. 
The blood pressure machine and weighing scales for patient use are located behind a screen in a corner of the waiting room.
Please tell friends and neighbours who do not have the village email about this.
Susan Pickwoad
Patient Participation Group representative