HARRINGWORTH COVID-19 LOCKDOWN UPDATE
HARRINGWORTH LOCKDOWN NEWS (02/11/20)
The Harringworth Parish Council and Team of Volunteers are ready and waiting to support you through the Lockdown starting on Thursday 05/11/20.   
Please see our dedicated COVID-19 page for more information.
REMEMBRANCE SUNDAY IN HARRINGWORTH
While many of us stood at our front door or in the Churchyard in silence at 11.00 on Remembrance Sunday, Air Vice-Marshal Andrew White CB DL, Chair of Harringworth Parish Council represented the village at St John the Baptist Church by laying a wreath at the Memorial to the Fallen of Harringworth.
HARRINGWORTH PARISH COUNCIL
The next Parish Council meeting is on Thursday 12th November at 7.30pm.
 
All Parish Council meetings are open to the public and the Zoom log in details can be obtained from the Clerk by emailing: harringworthparishcouncil@gmail.com
To find more about the Parish Council and to read the Minutes of Meetings, please see the Parish Council section of this website or see the village noticeboard. 
ST JOHN THE BAPTIST CHURCH
REMEMBRANCE DAY SERVICE
The Remembrance Service in Harringworth has been cancelled.  
For further information on the Church or to contact the Vicar or Church Wardens, please visit our page: St John the Baptist Church.
Sadly, we will be closing the Village Hall on Wednesday ahead of the Lockdown (starting on 05/11/20).
We very much hope that Table Tennis will be able to resume in December.
HARRINGWORTH APPEALS FUND
After consultation and feedback following the last newsletter, the Harringworth Appeals Committee has obtained a License to hold a 100-Club in the village over the next year with a monthly £100 prize (as long as we manage to sell enough numbers!). Each 100-Club number costs £25 and you can purchase as many as you wish.
The 100-Club Rules and an Application Form will be arriving on your doorstep very soon with the option off purchasing your numbers by cheque or online banking. We hope you can support the 100-Club to help raise the urgently needed money for the Harringworth Appeals Fund.
A Donations Form will also drop through your letterbox for anyone who wishes to support fundraising in Harringworth with contributions by cheque or online.
THANK YOU IN ANTICIPATION
You can find out more information about the Harringworth Appeals Fund by choosing this link. If you have any questions please email harringworthvillage@gmail.com.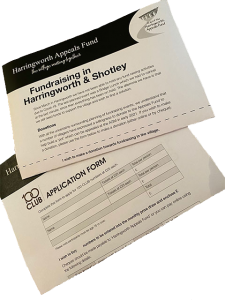 With the news that a face mask must be warn when travelling on public transport and in a medical setting we thought this guide on how to make your own may inspire some more sewing in the village. There are plenty of other patterns online but we know this has been tried and tested! You can download the instructions and pattern through this link and also watch the video below.