HARRINGWORTH COVID-19 LOCKDOWN UPDATE
As we start on the road to easing Lockdown you can find out full details on the Government website
Our network of volunteers, organised by the Parish Council, remain in place. Please do not hesitate to reach out to get help and we would welcome any new volunteers who feel they can join the team. Please see our dedicated COVID-19 page for more information.
Harringworth NEWS MARCH 2021
What a lovely sight to see lambs in the fields around the village and daffodils opening their yellow heads; it really does feel like Spring!
We hope you enjoy reading through the newsletter (it is quite long so a cup of coffee may be needed!).  With Lockdown slowly easing we can now start to look forward to the months ahead and work together on rebuilding our village community life.  
Again, we are thrilled to welcome new families to the village, including our Escape to the Country TV Stars Sandie and Gavin who recently moved into Tallat Barn with their two cockapoos.
100 Club: Congratulations to Paul Tooze (and Oliver his son) for winning £100 with the 100 Club in February and thank you to Jules Bell for making the draw this month whilst collecting Compost ordered in by the Gardening Group.

The Architecture the Railways Built – Welland Valley Viaduct  You can watch a documentary about the Harringworth Viaduct on Tuesday 23 March at 8.00pm on YESTERDAY channel (Freeview 25, Sky 155, Virgin Media 129, Freesat 159).  They filmed in October and this forms part of a series that has been looking at the Architecture influenced by the Railways. 

Easter Lilies If you would like to display an Easter lily in memory of a loved one, would you please let Sue Reading know by Friday 25th March.  These will be displayed in the church with a list of those remembered.  Email sue.e.reading@gmail.com or telephone 01572 747664.

Events at the Village Hall  All being well, bookings can start from 17 May 2021 with numbers limited according to Covid-19 Guidance. Table Tennis is scheduled on a Tuesday and Thursday afternoon and a new Gentle Yoga Class on a Wednesday afternoon. Justine Bromage is keen to return with her Pilates class once it is practical.
harringworth parish council: elections
Council and Parish Council Elections will be held on 6 May for the election of our seven councillors.. 
The Village Hall will open under special conditions.
The Parish Council elections are for seven councillors. If seven or less parish councillors stand for election then the election will be declared uncontested, meaning that no actual vote for parish councillors takes place (local elections will still be held for the new North Northamptonshire Councillors and the Police & Crime Commissioner). Any shortfall in parish councillors are the made up by the newly elected parish councillors co-opting people onto the parish council. 
It is important that we have a good representation of people from across the village on the parish council. It does not matter how long you have lived in the village as long as you meet the qualifications. If you are interested check out 'Part 1 Can you stand for election' to a Parish and Community Council? (electoralcommission.org.uk) to confirm that you are eligible. Further information on standing in the election can be found here.
Election timeline for candidates.
Now – fill in your application form.  The form can be downloaded now by clicking here. Alternatively you can obtain a hard copy from the Clerk who will also be able to provide any assistance with filling in the form (please use the email link below).
Nomination papers are formally submitted by hand from 25 March to 4.00pm 8 April.
The Clerk is more than willing to provide details should you be interested (click link below) or visit the Parish Council section of this website.
Local government in Northamptonshire is facing its biggest change in over 40 years.
The eight existing councils – Wellingborough, Corby, Daventry, East Northants, Kettering, Northampton, Northamptonshire County and South Northants – will be replaced with two brand new unitary councils on 1 April 2021.
Government legislation has been passed to create a new West Northamptonshire unitary council serving the areas of Daventry District, Northampton and South Northants, and a new North Northamptonshire unitary authority serving Wellingborough, Kettering, Corby and East Northants. These two new councils will start providing services to the residents and businesses of Northamptonshire in April.
Why are changes being made?
The existing eight councils are working together on preparations to create the two new councils. The new unitary councils will be responsible for all public services provided to residents in their areas – currently these are split between the district and borough councils and the county council, which can seem fragmented to residents, as well as being more costly to deliver in some cases.
Joining these services up in a unitary system will provide more efficient service delivery for our residents and businesses, with considerable opportunities to develop and transform services to improve outcomes and increase value for money.
The plans also include creating a Children's Service Trust that will act on behalf of the two new unitary councils to provide vital services for youngsters countywide.
What are the next steps?
Following the postponement of elections last May for the new unitary councils due to the Covid-19 pandemic – the response to which is a top priority for all councils in the county –  an alternative approach and new legislation has been made by the Government to enable the creation of the new authorities as planned.
In May 2020 two North and West Shadow authorities were set up to lead the preparations for creating the two unitary councils. Instead of being made up of newly elected councillors, they will combine the membership of the existing district, borough and county councils.
The elections to the new unitary councils will take place on 6 May 2021.
HARRINGWORTH APPEALS FUND
The AGM for the Harringworth Appeals Fund will take place later than usual this year; a date will be set once we are able to hold a gathering in the Village Hall.  Ahead of the meeting we will be asking for applications for the distributions of the Appeals Fund and full details will be sent out in April.  
Will you consider joining the Committee?
After over a year without any events in Harringworth, we invite volunteers to come forward to form the new Appeals Fund Committee at the AGM. We especially hope to encourage those who are new to the village and anyone with fresh ideas and enthusiasm is welcome!  You can read more about the Appeals Fund in the forward of the 2021 Harringworth Directory email harringworthvillage@gmail.com or call Philppa Gasson (01572 747700) with your questions or to put your name forward.   
HARRINGWORTH VILLAGE DIRECTORY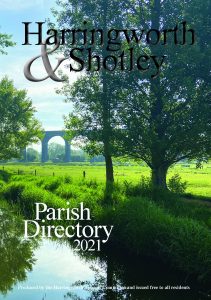 The new Village Directory should have dropped through your door. Check out the wide variety of village information and the many advertisements for local businesses.  All the funds raised from advertising (after printing costs) go to the Harringworth Appeals Fund. A huge thank you to Richard Nixon who gives his valuable time and expertise in formatting the Directory each year.
Harringworth Community Events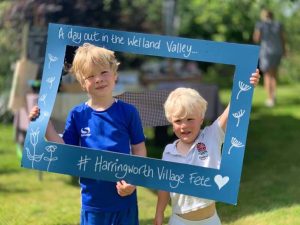 Have you any ideas of the kind of events you would like in the village once we come out of Lockdown in June? These could be coffee and cake, small gatherings, clubs, sports, exercise, classes, suppers. We need ideas and also people to come forward who would like to get involved. Do drop us an email and let us know your ideas and offers of help.
You can read more about the Village Community and Appeals Fund in the forward of the 2021 Harringworth Directory. Please email harringworthvillage@gmail.com 
Harringworth Village Hall
As the Village Hall is prepared for reopening in May, it was decided at the Trustees meeting on Wednesday to give the lovely garden area under the sign a makeover. 48 hours later and it has been given a new lease of life thanks to James and Verity Thompson.  Do pop down and take a look when you are out for a walk.  
Can you spot some of the plants?  We have a Choisya 'Aztec Pearl', Vinca 'Gertrude Jekyll', Hebe 'Sutherlandii', Golden Marjoram, Euonymous Jap. 'Jean Hughes' and Scilla 'Caribbean Jewels' plus some pretty spring bulbs. So kind of Verity from the Harringworth Gardening Club to lend us her expertise.  Thank you, Verity. 
If you are interested in taking on the role of a Trustee after the AGM, wish to make a booking or have any ideas for the type of activities you would like to see organised in the Hall please email us.
For more information on the village hall and for details on how to book it, please visit the Village Hall section of this website.
ST JOHN THE BAPTIST CHURCH SERVICES 
Services will resume (subject to change) at St John the Baptist Church, Harringworth on Palm Sunday, 28 March with a 9.30am Family Communion. Social distancing will apply and sadly no singing is permitted, as yet.
During Holy Week, the Maundy Thursday Holy Communion Service with take place in Lyddington at 7.30pm and the Good Friday Service in Harringworth at Noon.
On Easter Sunday in Harringworth the Family Communion Service is at 9.30am, when Easter Lilies will be displayed.   During the remainder of April we have a Holy Communion Service on 11 April at 9.30am, Evensong on 18 April at 6pm, and Parish Communion on 25 April at 9.30am.
Order an Easter Lily by Friday 25 March by contacting Sue Reading – sue.e.reading@gmail.com or telephone 01572 747664.
Church Cleaning is taking place from 10.00-12.00 and 2.00-4.00pm on Wednesday 25th and Thursday 26 March.  Jane McLean (Church Warden) is keen to add a few more volunteers to the rota as some areas are yet to be covered.  Call her on 01572 747 755 or 07751 125 515 if you can help.
If you wish to make contact with the Vicar or Church Wardens see the details below:
The Rev Canon Jane Baxter by email or phone:
revjanebaxter@gmail.com  or 01572 822 717
Church Wardens
Nigel Lugg – 01572 747 210
Jane McLean – 01572 747 755
How exciting is this! We can follow the progress of the restoration of the White Swan. Filmed by Nikki you can watch Tim Wilson and Patrice Lardon not only working very hard stripping out the pub but discovering some hidden gems.  Click Subscribe to see each Episode. There are two episodes to date.  Click on the red button above! 
LOCAL SHOPS AND SERVICES UPDATE
It has never been more important to shop local and we hope to keep updating news of how local businesses are operating during lockdown.  It would appear that most pubs are closed at present but we have some excellent local shops.  
The Shop Gretton 
The old Post Office in Gretton was opended up as a temporary shop in the Autumn Lockdown and it has proved such a success it remains open.  Open Monday through to Saturday 10.00am – 4.00pm and Sunday's 10.00am – 12.00 Noon.
Barrowden and Wakerley Community Shop
The Barrowden and Wakerley Community Shop continues to offer a safe and excellent service locally.  They are open six days a week from 9.00am – 4.00pm and on a Sunday 9.00am to Noon.
Rutland Gourmet
They have a Fish and Chips Takeaway next Friday from Morcott and a range of Frozen ready meals available for local delivery on a Saturday,  You can also book a Mothering Sunday Afternoon Tea for next Sunday 14 March. Call Sarah on 07970 576882 or 01572 747909 to order or for more details. 
Uppingham Post Office
The Post Office remains open as usual  from 10.00am – 5.30pm on most days, Tuesday 2.00am – 5.30pm and Saturday 9.00am – 1.00pm. Closed Sunday.
Uppingham Friday Market
Faulkners will be selling Fruit and Vegetable each week at Uppingham Market.  Place your order by email on a Thursday and collect from behind the stall on a Friday (include your mobile number for them to message when ready). Email: nigel@bfaulknerandsons.co.uk 
Neil Canver Fishmonger
Neil Canver (from Uppingham Market) has confirmed that they are delivering fish and game to Harringworth on a Saturday.  They will have a website soon but in the meantime you can place an order by phone 0800 634 8382
New Lodge Farm
The local Farm Shop between Laxton and Bulwick offers a great service with a Shop, Takeaways and Vegetable Store. Visit the website: New Lodge Farm  
Spanhoe Lodge 
Spanhoe Lodge on Laxton Road offer a broad Takeaway Menu with free delivery to the village (on orders over £10).  See their website for more details or call 01780 450328
Spokes Cafe
Alice continues to bake cakes etc even though the Cafe is closed.  If you need that sweet treat do get in touch with her on 07748 654333.
Oh Curio
Lyndsey at Oh Curio may have closed her doors however, she is fully operational with Click & Collect or she can post out gifts on your behalf. Browse the Oh Curio website  or call 07903 038072.
Collection of Shopping
If you would like your shopping order collected or can offer to help collect for others – please contact the Volunteer Team.