NEWS IN HARRINGWORTH – JUNE 2021
At last we have some exciting dates for the diary with events where we can gather together, catch up with friends and neighbours and finally get to know our new arrivals!
STOP PRESS: A social evening for all villagers has been planned to celebrate lockdown easing on Friday July 9th in the Village Hall.
COVID-19 As we continue on the road to easing Lockdown you can find out full details on the Government website.
100 Club Congratulations to Shirley Milton for winning £100 with the 100 Club in May and thank you to Harry Morgan for drawing the winning number.
Luncheon Club Summer Picnic Maggie Hill and Barbara Kedge have pencilled in Tuesday 22nd June for a summer picnic (weather and rules permitting). Please save the date there will be more details available later in the month.
Harringworth is to hold the Parish Open Meeting on Friday 9th July in the Village Hall, followed by the Appeals AGM with distribution of Funds.  As this is our first opportunity to gather together as a village this year, the plan is to stay on after the meeting for a social evening with a Hog Roast and bar. More details will be published soon and for now do save the date. 
The meeting under COVID-19 guidance will have a limit to the number who can attend, however, there is a plan to hold a more informal Parish Meeting once restrictions are lifted and a date will be announced in due course (perhaps early July) when we hope to be able to gather together again.
For further information, please email the clerk at: harringworthparishcouncil@gmail.com
The Harringworth Parish Council held their annual meeting on 20th May in the Village Hall.  As required by Government restrictions the meeting was brief with much information provided prior to the meeting.  At the meeting Andrew White was re-elected chair and Michael Wright was co-opted to fill the last councillor position that was not filled as part of the election.  Also on the 20th the Annual Open meeting of the Parish was held.  With social distancing rules in place numbers had to be limited.  Consequently the chair of the meeting announced that another Parish Meeting would be held in July when hopefully the full capacity of the hall could once again be utilised.
The Parish Council is seeking a new Parish Clerk to start in July. This is an important position essential for the effective operation of the Parish Council and is the only one that is remunerated. 
If you would like to make contribution to the running of our beautiful village why not volunteer.  For further information please contact Andrew White, the Chairman of the Parish Council via andrew@white12.co.uk or 07717 152521.
HARRINGWORTH APPEALS FUND
The Appeals AGM and distribution of funds will take place during the Parish Open Meeting on 9th July.  Although fund raising has been limited over the last year, the funds that were raised will be distributed at the meeting. Full details of how to appeal for the funds will be posted out soon.
Will you consider joining the Committee?
After over a year without any events in Harringworth, we invite volunteers to come forward to form the new Appeals Fund Committee at the AGM. We especially hope to encourage those who are new to the village and anyone with fresh ideas and enthusiasm is welcome!  You can read more about the Appeals Fund in the forward of the 2021 Harringworth Directory email harringworthvillage@gmail.com or call Philppa Gasson (01572 747700) with your questions or to put your name forward.   
Harringworth Village Hall AGM
The Village Hall AGM took place on Thursday 27 May when Julian O'Neill and Harry Morgan joined as trustees. Ges Dolman, after many years supporting the Village Hall has retired as a trustee. The meeting thanked him for his dedication and hard work and presented him with a gift.
HARRINGWORTH GARDENING GROUP
HARRINGWORTH GARDENING GROUP
GARDEN VISIT ON 25 JUNE
Book your place (by emailing Boey: r.ling@mac.com) at our first actual, in-person, face-to-face, real life, proper, physical gathering since olden days! (Can you tell I'm a bit excited about that?) And today, as the weather ventures, at last, to be appropriate to the season, wandering around a stunning garden with friends really does seem like an attractive proposition. And there is cake…
Cost is £9 per person with 100% of that going to the NGS charity. 
Do join us!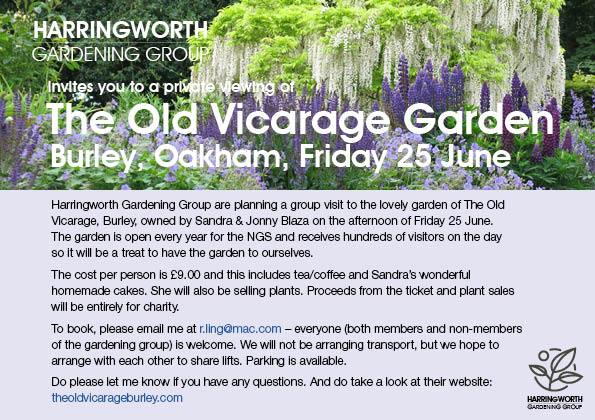 HARRINGWORTH VIADUCT LUNCHTIME SPECIAL
SUNDAY 5 DECEMBER 2021
The Harringworth Viaduct Lunchtime Shuttle
7029 Clun Castle & 5043 Earl of Mount Edgcumbe "Top & Tailed"
In another Vintage Train's tradition, while passengers visit the Melton Mowbray Victorian Christmas Fayre, others can take the lunchtime journey out to Corby and back which takes us twice across the famous Harringworth Viaduct with its spectacular views across the valley. 
Harringworth SAFARI SUPPER
SATURDAY 14th August 2021
PLEASE NOTE THE DATE IN YOUR DIARY  
Further information to follow later in June
Due to the pandemic, last year's annual Safari Dinner had to be cancelled. Happily things are looking much better now. We hope that soon life will be back to some sort of normal, allowing us to all meet together safely again. So we are planning this year's popular Safari dinner at a later date in August. We will of course need to follow the government guidelines and if the situation changes for the worse we may sadly have to cancel the event. Fingers crossed that this will not be the case.  
As there are so many newcomers to our village we need to explain how it works.  All villagers are welcome to take part. The cost is £20 per head less an allowance for whichever course is prepared. Any profits made will be donated to the Harringworth Appeals Fund.
Each couple hosts a course in their own home for six people in total. Single people can double up to host in one of their houses or we can arrange three people to host together.  We begin the evening together at 7.00pm for aperitifs, then couples move on at the same time to different venues for their starter, then at specific times for main course and then dessert. At the end of the evening we gather together for cheese, coffee and drinks. This is always a popular event and a great way to meet your fellow villagers. Maybe you would like to join us.
A volunteer is required to host the aperitifs and another to host the final meeting place.  Please contact Maggie or Barbara by phone or WhatsApp: Maggie Hill on 07881 912299 / 01572 747486 or Barbara Kedge on 07896 662953.
How exciting is this! We can follow the progress of the restoration of the White Swan. Filmed by Nikki you can watch Tim Wilson and Patrice Lardon not only working very hard stripping out the pub but discovering some hidden gems.  Click Subscribe to see each Episode. There are two episodes to date.  Click on the red button above! 
LOCAL SHOPS AND SERVICES UPDATE
It has never been more important to shop local and we hope to keep updating news of how local businesses are operating during lockdown.  It would appear that most pubs are closed at present but we have some excellent local shops.  
The Shop Gretton 
The old Post Office in Gretton was opended up as a temporary shop in the Autumn Lockdown and it has proved such a success it remains open.  Open Monday through to Saturday 10.00am – 4.00pm and Sunday's 10.00am – 12.00 Noon.
Barrowden and Wakerley Community Shop
The Barrowden and Wakerley Community Shop continues to offer a safe and excellent service locally.  They are open six days a week from 9.00am – 4.00pm and on a Sunday 9.00am to Noon.
Rutland Gourmet
They have a Fish and Chips Takeaway next Friday from Morcott and a range of Frozen ready meals available for local delivery on a Saturday,  You can also book a Mothering Sunday Afternoon Tea for next Sunday 14 March. Call Sarah on 07970 576882 or 01572 747909 to order or for more details. 
Uppingham Post Office
The Post Office remains open as usual  from 10.00am – 5.30pm on most days, Tuesday 2.00am – 5.30pm and Saturday 9.00am – 1.00pm. Closed Sunday.
Uppingham Friday Market
Faulkners will be selling Fruit and Vegetable each week at Uppingham Market.  Place your order by email on a Thursday and collect from behind the stall on a Friday (include your mobile number for them to message when ready). Email: nigel@bfaulknerandsons.co.uk 
Neil Canver Fishmonger
Neil Canver (from Uppingham Market) has confirmed that they are delivering fish and game to Harringworth on a Saturday.  They will have a website soon but in the meantime you can place an order by phone 0800 634 8382
New Lodge Farm
The local Farm Shop between Laxton and Bulwick offers a great service with a Shop, Takeaways and Vegetable Store. Visit the website: New Lodge Farm  
Spanhoe Lodge 
Spanhoe Lodge on Laxton Road offer a broad Takeaway Menu with free delivery to the village (on orders over £10).  See their website for more details or call 01780 450328
Spokes Cafe
Alice continues to bake cakes etc even though the Cafe is closed.  If you need that sweet treat do get in touch with her on 07748 654333.
Oh Curio
Lyndsey at Oh Curio may have closed her doors however, she is fully operational with Click & Collect or she can post out gifts on your behalf. Browse the Oh Curio website  or call 07903 038072.
Collection of Shopping
If you would like your shopping order collected or can offer to help collect for others – please contact the Volunteer Team.