HARRINGWORTH & SHOTLEY News and what's on
Welcome to our newsletter for early Spring.  With so many news stories, forthcoming events and dates for the diary you may like to sit down with a coffee – happy reading!!
HARRINGWORTH FIELDWORK GROUP
There has been a super response for the Talk on Friday 10 February about the Roman mosaic and Roman Villa uncovered just over the border in Rutland and all tickets have been sold.  Harringworth Fieldwork Group has invited Dr. Cathy Smith, Dean of Research, Northampton University, to give their second talk.  Entitled, 'Satanic Arts: Witches as the Devil's Agents in Early Modern England and Northamptonshire', Cathy will enlighten us about witches and witchcraft in Northants. To be held at 7.30 on 17th March 2023 at the Harringworth Village Hall. Tickets £7 from Roy Kedge – roykedge1949@gmail.com or 07421 369406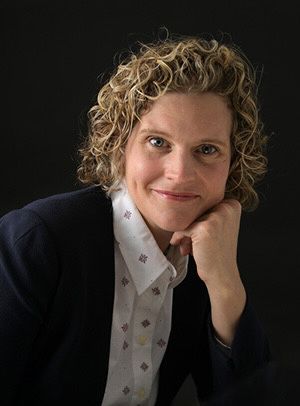 On 1 February we are joined by Sarah Bell from Netherfield Farm in Harringworth; her talk 'Field to Fridge, an insight in to food production' will touch on sustainability and innovation in food systems and farming. This talk is open to everyone so please bring along husbands, friends and neighbours for the evening. Details of the meeting on Wednesday 1 March will be announced at the February meeting and in the newsletter. We meet each month on the first Wednesday from 7.30pm – 9.30pm in the Village Hall; cost £5.00 including a glass of wine (no need to pre-book).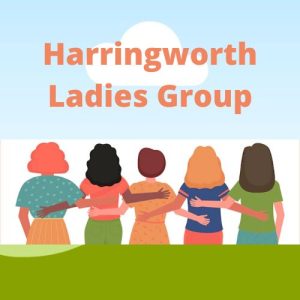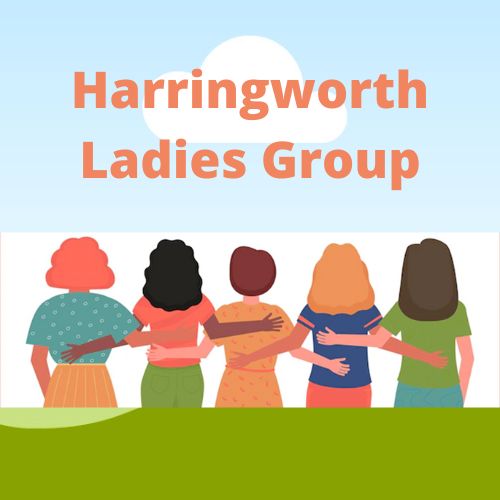 Save the Date! The Harringworth Walkers will enjoy a walk around the local area ahead of joining other villagers for the Lent Lunch with Soup, Bread and Cheese in the Village Hall on Wednesday 22 March 2023. All welcome
Is anyone interested in joining a Harringworth cricket team for a fun one-off match against a team from Glaston? The match will be played early summer (date to be arranged) at Uppingham Cricket Club and I am looking for interested people to join the team for a fun evening. Anyone is welcome to join in, any age and any experience goes!  The match will take place on a Friday evening and there will be a couple of evening practice sessions to be arranged nearer the time.
If you are interested in finding out more, please contact Gavin Gordon on gavingordon@live.co.uk or mobile: 07958 548869.
FITSTEPS - fitness for everyone
It is hoped from 1 February to start a new class this week in the Village Hall on a Wednesday at 5.00pm; it was postponed  as we need two or three more people to make it viable! Amy books a six week block at a time.
It's a great form of exercise for all levels and if you are a fan of Strictly you will love it … please encourage friends or family as it is not exclusive to residents of the village.
Contact Amy Whearity via WhatsApp on 07951 066635 for further details or to express your interest. She has a class at Uppingham Town Hall on a Wednesday at 12.15 if you want a taster!!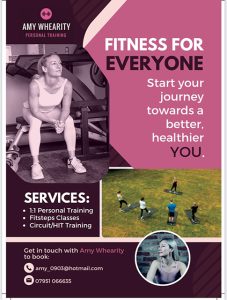 Hi everyone,
I am interested in finding a group of people who might like to car share or set up a village project to car share . There must be many of us doing similar journeys and some are on a daily or weekly basis. 
Would anyone like to get together with me to scratch our heads and see if we could come up with a plan for car sharing out and into Harringworth? 
I am happy to meet in an evening if that helps but also I am flexible on Monday mornings this term and so could facilitate a gathering. 
If you are interested please could you send me a WhatsApp to demonstrate your interest?
Thanks,
Claire Crowley
Telephone: 07811 424 430 
FUNDRAISING FOR RUGBY TOUR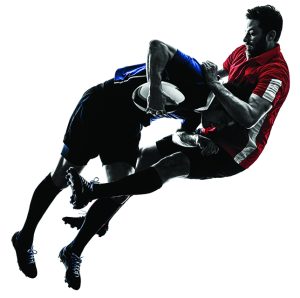 Hello people of Harringworth, I hope this finds you well. I am Ahren Crowley of Clairville, Wakerley Road and I am looking for ways to fundraise as my college (Brooksby Melton College) has been chosen as the English school to play in an international rugby competition, the Sanix World Championships held in Kukuoka, Japan, this April.
I am offering you the chance to get your lawn mowed, for the first time this Spring, for just £5 with the kind use of your lawnmower.
You can contact me on 07568 305 510 .
HARRINGWORTH VILLAGE HALL
The Village Hall is available for booking over the Summer for get togethers – such as a party, children's playtime, table tennis and much more.  Some exercise classes are having a summer break and returning in September – so you can always meet as a group for your own exercise or coffee. We now have a bundle of children's games for hire which include Giant Jenga, rounders and hoop on cones etc. Email the Village Hall to enquire.
Regular activities in the Village Hall:
Table Tennis on a Tuesday from 2.30 – 4.30pm
PureStretch on a Tuesday in the hall or on Zoom at 6.30pm (book with Dawn, 07590 019754)
FitSteps with Amy on a Wednesday at 5.00pm (on HOLD to book message Amy 07951 066635)
Table Tennis on a Thursday from 5.00 – 7.00pm
Harringworth Ladies on the first Wednesday of the month
If you would like to see additional exercise classes in the Village Hall please email the Village Hall with suggestions.
For further information, please see the Village Hall section of this website. or email Village Hall to enquire.
FOODBANK collection point
Please support the Corby Foodbank, if you can.
Our collection point is in the Children's Area in the Church.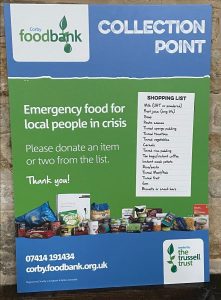 Uppingham Surgery Waiting Room
The Surgery has reinstated the waiting room. For appointments enter the building through the main front doors and book in at the reception desk. The waiting area is sign posted just along the ground floor corridor to the left. Wait here for the doctor or nurse to come and call you in for your appointment. 
The blood pressure machine and weighing scales for patient use are located behind a screen in a corner of the waiting room.
Please tell friends and neighbours who do not have the village email about this.
Susan Pickwoad
Patient Participation Group representative