We have a few updates for you this month including news of another Lockdown Quiz and instructions on how to sew a face mask.  
 
Again a huge thank you to all the village volunteers coordinating and collecting prescriptions, shopping and running errands for vulnerable neighbours. Contact Ges Dolman (747 385) or Nicola Wright (747 935) with any questions or if you need assistance. 
 
If you have news or photos to share for the next Newsletter please email through to harringworthv@gmail.com
Coronavirus outbreak FAQs
The government has set out its plan to return life to as near normal as we can, for as many people as we can, as quickly and fairly as possible in order to safeguard livelihoods, but in a way that is safe and continues to protect our NHS.
The government has published guidance on staying safe outside your home and guidance on social distancing rules. This page sets out key FAQs to help you prepare for these changes.
Please click on the link below to catch up on the latest guidance
With the slight easing of restrictions it can be a little confusing and we recommend you click through to the following link to check updates.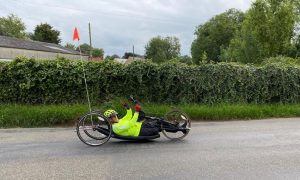 Alan Wordie is fundraising for the Cransley Hospice, Kettering
The Cransley Hospice in Kettering serves the north of Northamptonshire, and provides care for patients with a life-limiting illness who need specialist palliative help either at the hospices's 9 bed in-patient ward or at home. Here is a link to the Hospice and "Who they are"
On Sunday 2nd August I will be cycling the 50 mile course in my recumbent hand bike, with a personal challenge of completing the ride at an average speed of not less than 12.5 mph. I am in training and confident of achieving the full distance. To encourage me to both train harder and also pull & push myself to a fast time I am seeking sponsorship, with gift aided donations, via Just Giving.
I have set a target but the more raised the better, as we never know when we, or family and friends, might require palliative care locally. Harringworth and the surrounding villages – please hear my call to arms.
Please consider sponsoring this very worthy cause. I will be adding photographs to my site during the four weeks of training. If you see me out on the roads (and have sponsored me) please wave or toot. I cannot promise to wave back to avoid going into a ditch. 
Together let's build a big donation – visit my just giving link and please complete the GIFT AID commitment were you can. The Government will add another 25% to your donation.
In anticipation of your support, thank you.
Alan Wordie
Harringworth Photo Competition
To celebrate the launch of our new website we hope you will join in a photo competition for children and adults.  
There are four categories:
garden or flower
VE Day afternoon tea 
insect or bird
'lockdown' in Harringworth
We will nominate a winner for the "best image" in each category.  
To enter the competition please email your photos with your name and a few details about the image (and age if under 16) to harringworthv@gmail.com
Prescriptions from Uppingham Surgery
The new system for collection of village prescriptions is working well.  Just to remind you, this has been set up by the surgery for the villages around Uppingham and they would prefer you to use this system rather than collecting individual prescriptions, which takes time and takes staff away from dispensing medicines.  Just to remind you of the system.
If you have a monthly prescription/s that requires collection from the surgery, regardless of whether you are self-isolating or not please
Ring the volunteer line on 01572 747 385 preferably one week before your next prescription is due.
Give the name of the person whose medicine you need picking up. No need for the date of Birth, just name as registered at surgery.
If you have more than one item to be collected, please confirm number.
Prescriptions will be picked up on the next available collection and will be delivered to your home that afternoon.
 If you have a one-off prescription or emergency prescription, this can also be collected on your behalf. 
PLEASE NOTE THAT THE OFFER OF COLLECTING PRESCRIPTIONS IS A VOLUNTARY SERVICE AND YOU CAN COLLECT YOUR OWN PRESCRIPTION IF YOU WISH 
With the news that a face mask must be warn when travelling on public transport and in a medical setting we thought this guide on how to make your own may inspire some more sewing in the village. There are plenty of other patterns online but we know this has been tried and tested! You can download the instructions and pattern through this link and also watch the video below.
Harringworth Village Hall
The first ever Zoom AGM of the Village Hall Trustees last week worked very well and we are delighted to confirm the appointment of five Trustees who will manage the Village Hall on behalf of Harringworth and Shotley over the next year.  
Harringworth Village Hall Trustees:
Ges Dolman (Chair)
Fraser Stephen-Smith (Vice-Chair)
Chris Merriman (Treasurer)
James Thompson
Philippa Gasson (Secretary)
The Minutes of the 2020 AGM will be posted on the website soon.
Church Service & Virtual Coffee Morning
Harringworth St John the Baptist Church
You are able to access Church Services online using the button link below.
Also Jane Baxter is holding a virtual Zoom Coffee Morning on a Friday – BYO coffee!
Time: 10:30am London
If you wish to join email Jane Baxter who will add you to the mailing list.
If you wish to make contact with the Vicar or Church Wardens see the details below
The Rev Canon Jane Baxter
revjanebaxter@gmail.com  / 01572 822 717
Church Wardens:
Nigel Lugg – 01572 747 210
Jane McLean – 01572 747 755 
Made in Harringworth – SCRUBS MAKING UPDATE
You may be aware that over the last few weeks several villagers have been sewing scrubs and laundry bags for the NHS through a scheme in Uppingham called Uppstitch coordinated by Liz Clarke. 
Thank you to Bernadette, Bev, Diana, Kirsten, Philippa, Sue, Chris and Claire who have to date made about 30 scrubs & several bags, with  Susie kindly acting as courier to Uppingham and back.
The JustGiving page has raised £2,471 to buy fabric with over 275 scrubs distributed to all the Care homes in Uppingham, Glenfield Hospital, Corby Urgent Care Centre and even as far as Manchester. In addition to the bought fabric they have been made from old duvets, curtains and bedding.
Donations can be made to: Just Giving.
Although it is a small contribution it is very gratifying to know they are greatly appreciated and very much needed.There is still a demand for them and we are still sewing away. 
If you would like to help, contact Sue Reading on 747 664.
VE DAY IN HARRINGWORTH & SHOTLEY
Harringworth Gardening Group News
Thank goodness for gardening, in this extraordinary year more than ever! The sale of veg strips was a great success and should ensure that we are picking actual food before long. We've already been doing plenty of swapping of seedlings and plants and sharing tips via the WhatsApp group and it's working well.
Please share any ideas for anything else we could be doing during this time. If anyone needs gardening-related help, do shout. If you are ill and need someone to water, ask. If you need plants or seeds, or advice, or to share an order with Welland Vale Garden Centre (free deliveries to Harringworth) or just someone to rant at when slugs eat your brassicas, the group is here!
New members are welcome. Contact Nicola Morgan on n@nicolamorgan.co.uk if you wish to know more about the group or to join the Gardening WhatsApp. Enjoy your gardens!
LOCAL SHOPPING & READY MEALS 
You can find news of local shop opening hours, delivery and ready meals information on the Harringworth website. 
If you need some essential groceries or a prescription ask Ges Dolman (747 385) or Nicola Wright (747 935) – a team of volunteers are more that willing to help.
Follow these links: