NEWS IN HARRINGWORTH & SHOTLEY
CELEBRATE THE QUEEN'S PLATINUM JUBILEE
Thursday 2 June and Sunday 5 June 2022
The UK and Commonwealth will celebrate the Queen's Platinum Jubilee with a 4-day Bank Holiday from 2-5 June 2022. Here are the details of what is planned for Harringworth & Shotley. Please come along and support the events. You will find further details below, including how to reserve your places for Thursday evening and Sunday afternoon.
'THE CROWN' IN HARRINGWORTH – pop up Bar and Street Food at the Village Hall, with tables outside in the marquees, on Thursday 2 June starting 6.30pm. All welcome.
THE QUEEN'S PLATINUM JUBILEE SERVICE in St John the Baptist Church, Harringworth on Sunday 5 June at 10.45am.  All welcome.
BRING AND SHARE JUBILEE TEA PARTY on Sunday 5 June – with games for our younger residents in the adjacent field. Again at the Village Hall, with tables outside in the marquees. Starting at 3.00pm. All welcome.
FREE JUBILEE MUG for our younger residents, with the opportunity for others to buy.
'THE CROWN' IN HARRINGWORTH: QUEEN'S PLATINUM JUBILEE PARTY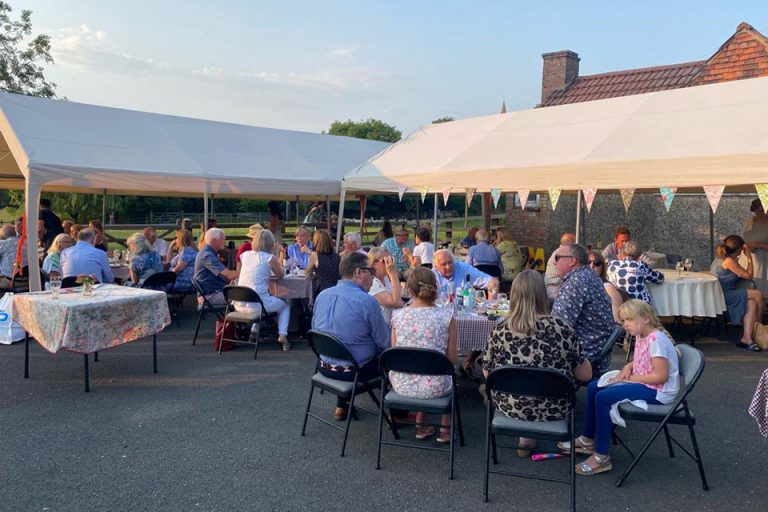 Please join us for an evening of celebration, with Street Food and a Bar at the Village Hall and in our Village Marquees. Expect to see bunting and flags! Bar opens at 6:30pm, first food order 7:00pm.
We will be serving Street Food including Paella and a Burger Bar (with vegetarian and Vegan Options) at £10 per head (with children under 16 half price). It is essential to book ahead so we can plan the catering requirements. Capacity will be limited and we are asking for payment in advance.   You can of course pop by just for a drink or two.
The Bar will be serving a selection of red and white wines, draught Black Sheep Ale and Grainstore Platinum Jubilee Gold Beer, local lagers, and a full range of soft drinks. Our Bar Manager Neil Rogers and his team look forward to welcoming you.
How to Book for Food
Look out for a flyer popping through your door soon with the order form for your meal at 'The Crown' or download and print the form using the link below.
Please confirm as soon as you are able and we will take payment ahead of the evening. The final closing date for placing orders is Friday 27 May. However, ideally you are able to confirm very soon!
Don't miss out as we anticipate the evening could be oversubscribed.
The QUEEN'S PLATINUM JUBILEE SERVICE
St John the Baptist Church, Harringworth on Sunday 5 June at 10.45am. 
AFTERNOON TEA PARTY (BRING & SHARE)
Sunday 5 June 2022, 3:00PM
Join in an afternoon of fun, food and games when you are encouraged to wear something red, white and blue!.  Activities include a Crown Competition, children's games and best dressed house competition.
The event is free to all, with no admission price, so please plan to bring a selection of Afternoon Tea delights and your own drinks at 3.00pm. At least a week before the Tea Party we ask you to complete the form with your details and the type of food you plan to bring so we can ensure we have a balanced array of food!
Prizes for the best Jubilee outfits for adults and children
Prize for the best home-made Royal Crown
Prize for the best Jubilee decorated house (judged on Saturday)
Children games and races…sack race, egg and spoon, three legged etc.
Tea, coffee and squash will be supplied
Bring your own drinks
The Bar at the Crown will be open (as long as stocks last)!
Look out for the flyer popping through your door soon or download and print it using the link below. Please complete at least one week ahead of the Tea Party, and return the form to Rona Towell.
QUEEN'S PLATINUM JUBILEE MUG
We are delighted that the request to fund the gift of a Platinum Jubilee Mug to all children in Harringworth (anyone under 18) was granted at the Appeals Fund AGM last week. 
The Harringworth Platinum Jubilee Mug will also be available for sale over the celebration weekend.  It is anticipated that the cost of each mug will be £7.50 – £10.00. 
More details will follow in due course.
The Jubilee Organising Group* acknowledges with grateful thanks the generous support of the Harringworth Appeals Fund, the Village Hall Trustees, and Martin and Nikki Howell for the use of their field behind the Village Hall for the children's activities on the Sunday. 
Any financial surplus from our Jubilee Party events will be donated equally to the DEC Ukraine Appeal and Hope Against Cancer, a local Charity nominated by the Howells.
* Harry Morgan (Chair), Philippa Gasson, Ian Craven, Chris Boddington, Neil Rogers, Rona Towell, Michael Wright 
HARRINGWORTH UPHOLSTERY WORKSHOP MONDAY 16 MAY 
Running slightly later than originally planned the workshop has been booked for Monday 16 May. For more information, please contact To Book ring Jo now on 07415767826 or email joatno40@gmail.com
SAFARI DINNER SATURDAY 20 AUGUST
Save the Date for this years Safari Dinner on Saturday 20 August.
HARRINGWORTH VILLAGE HALL
Classes and Clubs have resumed in the Village Hall.  
Table Tennis 2.30pm – 4.30pm
PureStretch Tuesday at 6.30pm 
Gentle YOGA at 2.00pm
PureStretch Thursday at 10.00am
Table Tennis Thursday from 5.00pm – 7.00pm
For more details on Village Hall activities p[lease go to the Activities page.