HARRINGWORTH & SHOTLEY News and what's on
Welcome to our newsletter for late Summer.  With so many news stories, forthcoming events and dates for the diary you may like to sit down with a coffee – happy reading!!
BROADBAND AND TELEPHONE OUTAGE
After the theft of telephone and fibre cables to the village (and many other local villages) Openreach managed to get us back online after one week. At the time of writing we are still awaiting the telephone lines to be restored and they hope to restore it early on in September. The Village Hall Trustees were able to provide a mobile broadband service in the Village Hall to allow connectivity and it is now available for loan to anyone still having connectivity issues or do so in the future. Message here if you need to borrow the dongle.
HARRINGWORTH PARISH COUNCIL
The next meeting of the Parish Council is on Thursday 1st September with the first 10 minutes (from 7.30–7.40pm) open to anyone to raise any question they have. Click the PCC page here to read recent minutes and agendas for meetings.
Book now to join us on Friday 14th October for a meal of home cooked Tagine and a pudding (for just £12.50pp) at our latest Pop-Up Pub in Harringworth Village Hall organised by the Appeals Team.  The bar will be open from 18.30 with food served from 19.00 – 20.30 and you can book by either emailing the Village Hall committee. Use the link below to place your food order.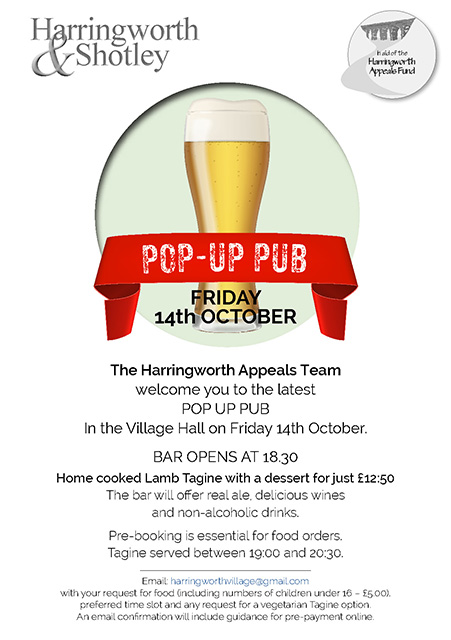 WOULD YOU LIKE TO ORDER FOOD FOR THE POP UP PUB?
Please click HERE with your request for food at £12.50pp (children under 16 – £5.00), preferred time slot and any request for a vegetarian Tagine option. No need to pay yet!  An email confirmation will include guidance for pre-payment online with your personal reference. 
HARRINGWORTH CHRISTMAS ARTISAN MARKET
Do save the date for our Christmas event on Saturday 19th November and any help ahead of the day or at the event would be very much appreciated. We are also looking for unique local makers, creators and sellers to book a table at the Artisan Market. Do pass on to interested parties and do get in touch if you're keen.  Message Harringworth Village for further details. There will be a Made & Grown in Harringworth stall at the Market and we welcome your contributions of craft, potted bulbs, preserves etc.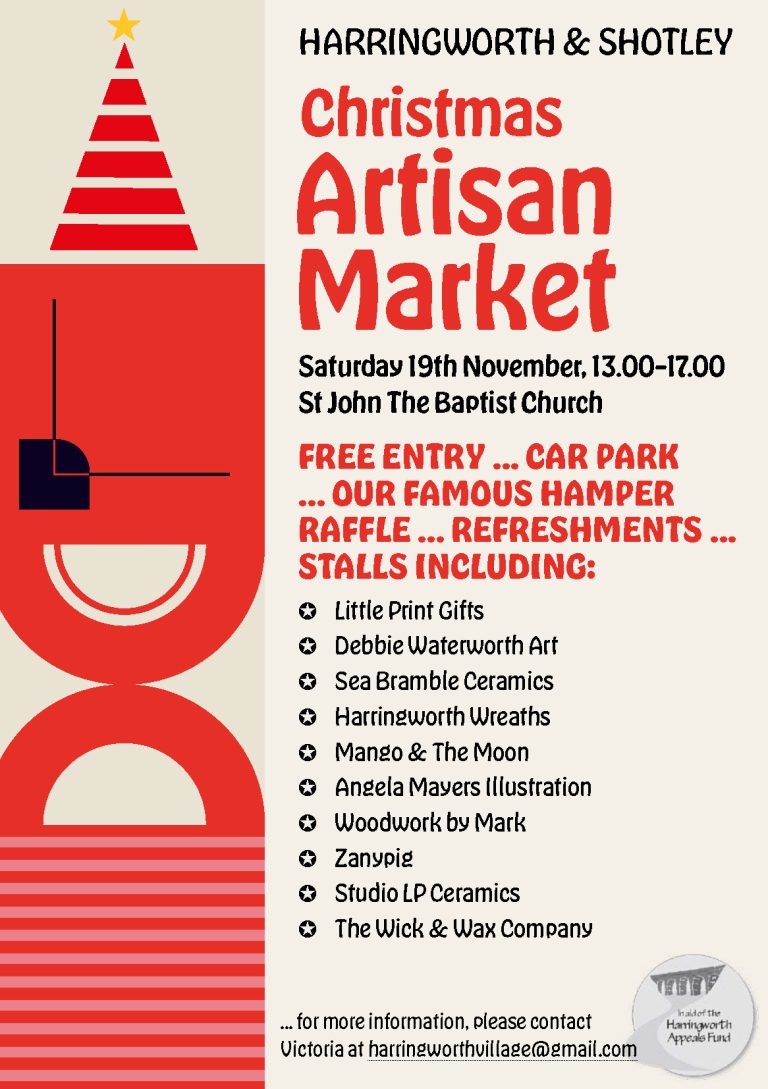 A new Harringworth Ladies Group is starting up on Wednesday 5 October, so please come and join us in the Village Hall from 7.30pm – 9.30pm. The group will meet on the first Wednesday of each month and will cost £5.00 which will include a glass of wine. Each session will start with a social half hour followed by speakers on various topics such as arts and crafts, sustainable farming, flower arranging and much much more! Please bring along any ideas and suggestions for future meetings.
Programme
5th October: 'We escaped to Harringworth!' Sandie Gordon talks about her TV adventure!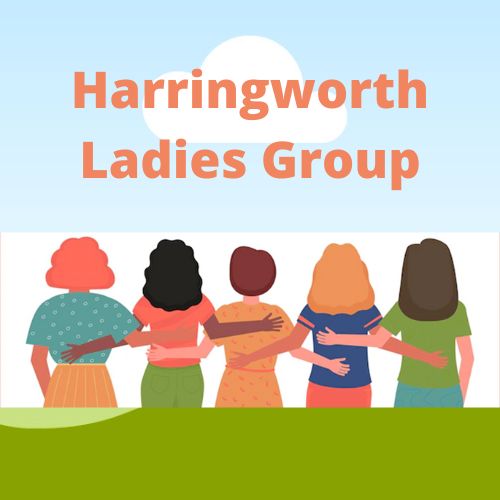 Donations for the Corby Foodbank are always welcomed and you can place your donation in the Children's Play area in the Church for collection by Bernadette Oakey.
FAMILY SERVICE & Harvest Festival Lunch
FAMILY SERVICE ON THE FIRST SUNDAY OF THE MONTH: With Coffee served from 10.30am the family friendly Service starts at 10.45am in St John the Baptist Church in Harringworth with the next on Sunday 4th September. Details of all Services are published in the Benefice News. Everyone is welcome.
HARVEST FESTIVAL LUNCH: The special Harvest Service on Sunday October 2nd will be followed by lunch in the Church; it will look stunning decorated with flowers and produce for the occasion.  Everyone welcome.
To book for lunch please contact Jan Gray by calling her on 01572 747 438 or 07932 548 595 or emailing her at
janbgray@yahoo.co.uk
before Friday 23rd September.
As a way to help encourage drivers to reduce their speed when driving through Harringworth we now have self-adhesive labels for the side of your bins.
These stickers are now available from Cllr. Simon McLean and to obtain you sticker please contact him on 747755 or via email simonandjanemclean@btinternet.com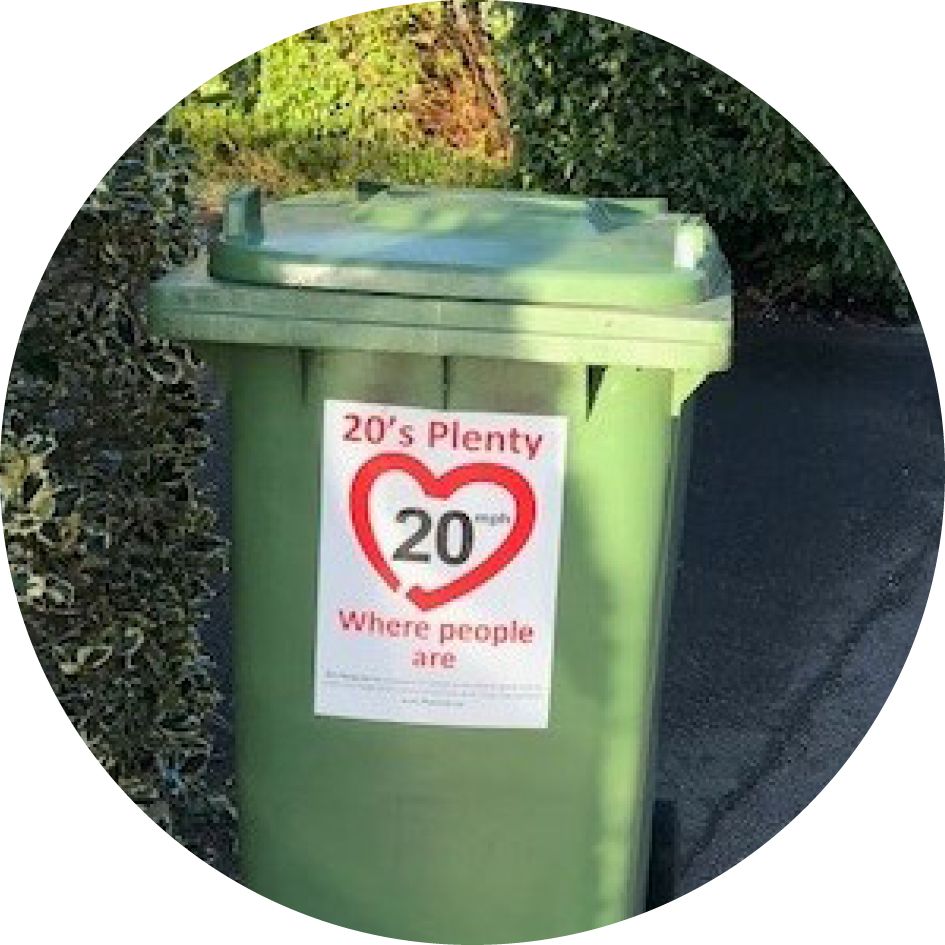 HARRINGWORTH VILLAGE HALL
The Village Hall is available for booking over the Summer for get togethers – such as a party, children's playtime, table tennis and much more.  Some exercise classes are having a summer break and returning in September – so you can always meet as a group for your own exercise or coffee. We now have a bundle of children's games for hire which include Giant Jenga, rounders and hoop on cones etc. Email the Village Hall to enquire.
Regular activities from September:
Table Tennis on a Tuesday from 2.30pm – 4.30pm
PureStretch on a Tuesday at 6.30pm
Yoga on a Wednesday at 2.00pm
Pilate-a-Cise on a Thursday at 10.00am
Table Tennis on a Thursday from 5.00pm – 7.00pm
For further information, please see the Village Hall section of this website. or email Village Hall to enquire.
Uppingham Surgery Waiting Room
The Surgery has reinstated the waiting room. For appointments enter the building through the main front doors and book in at the reception desk. The waiting area is sign posted just along the ground floor corridor to the left. Wait here for the doctor or nurse to come and call you in for your appointment. 
The blood pressure machine and weighing scales for patient use are located behind a screen in a corner of the waiting room.
Please tell friends and neighbours who do not have the village email about this.
Susan Pickwoad
Patient Participation Group representative