We hope you are keeping safe and well having adjusted to life in quarantine. In Harringworth, everyone has pulled together to support each other and the local community. Through the village email we have regular news updates including details of local shops, food outlets and take-away with opening times, contact details and menus – all to help with our day to day needs. If you are not getting these regular updates please message harringworthv@gmail.com and we will ensure you are added to the mailing list.
HARRINGWORTH & SHOTLEY CHARITY – LOCKDOWN QUIZ
Friday 22 May 7.00pm
Join in this fun quiz via ZOOM. Suggested donations of £5.00 per household to support the Corby Food Bank. Help will be given to those unfamiliar with ZOOM. Eternal glory for the winners!!
If you wish to join in, please email Roy by Wednesday 20 May: roykedge1949@gmail.com
You will then receive full details, a score sheet and your ZOOM meeting invite.
VE DAY IN HARRINGWORTH & SHOTLEY
How are you doing? It's hard to believe we are already into the month of May and week seven or is it eight of lockdown! Thank goodness we are blessed with wonderful gardens and lovely views of the countryside to enjoy along with the kindness and friendship of our special friends and neighbours.  
A huge thank you to all the village volunteers coordinating and collecting prescriptions, shopping and running errands for vulnerable neighbours. Contact Ges Dolman (747 385) or Nicola Wright (747 935) with any questions or if you need assistance.
For further information on local Coronavirus support, please click the Read More button below.
Another key event has been the the launch of our new website. It is being updated daily and we plan to introduce you to various areas of the website over the next few weeks. You will find details of activities and events in both Harringworth and the local area, including  the Parish Council, Parish Church, Gardening Group and Village Hall. 
We are excited to launch a Photo Competition (see below) with the winning images featuring on the website later in May.
Harringworth Photo Competition
To celebrate the launch of our new website we hope you will join in a photo competition for children and adults.  
There are four categories:
garden or flower
VE Day afternoon tea 
insect or bird
'lockdown' in Harringworth
We will nominate a winner for the "best image" in each category.  
To enter the competition please email your photos with your name and a few details about the image (and age if under 16) to harringworthv@gmail.com
Annual Parochial Church Meetings and Election of Churchwardens
Our Annual Parochial Church Meetings and Election of Church Wardens would normally have taken place before May 31st 2020. With the current situation, that is not possible, so the Bishop of Peterborough has used his powers under the Church Representation Rules to extend the final date until October 31st. Churchwardens elected at that meeting need to be Admitted before January 31st 2021. In the meantime, Churchwardens and other Officers elected in 2019 continue in office. When the situation becomes clearer, new dates for meetings will be fixed and advertised.
Prescriptions from Uppingham Surgery
The new system for collection of village prescriptions is now up and running and working well. Just to remind you, this has been set up by the surgery for the villages around Uppingham and they would prefer you to use this system rather than collecting individual prescriptions, which takes time and takes staff away from dispensing medicines.  Just to remind you of the system.
If you have a monthly prescription/s that requires collection from the surgery, regardless of whether you are self-isolating or not please
Ring the volunteer line on 01572 747 385 preferably one week before your next prescription is due.
Give the name of the person whose medicine you need picking up. No need for the date of birth, just name as registered at surgery.
If you have more than one item to be collected, please confirm number.
Prescriptions will be picked up on the next available collection and will be delivered to your home that afternoon.
 If you have a one-off prescription or emergency prescription, this can also be collected on your behalf. 
Children's Guided History Walk of Harringworth
Reuben Sharp, of Trinity Cottage, has written a children's guided history walk around the streets of Harringworth. It is based on the treasure hunt he ran a few years ago but could serve as a useful print off to liven up one of your daily walks around the village.
If you would like a copy of the document, please email Eve at eviecoops@hotmail.com.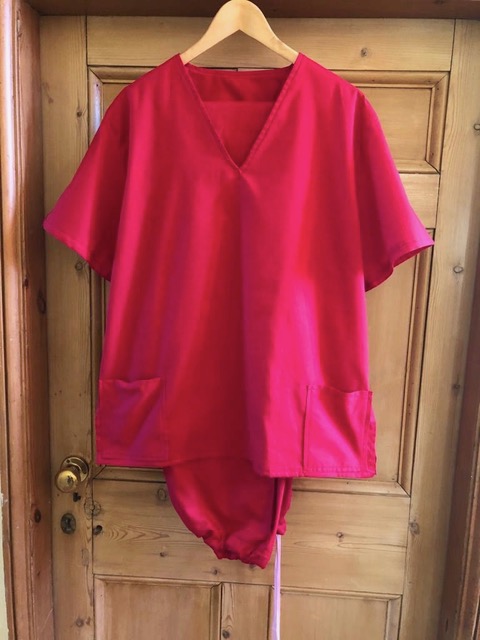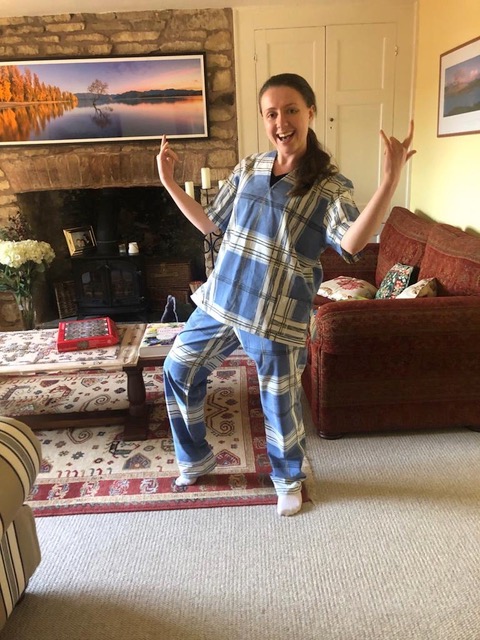 Made in Harringworth – SCRUBS MAKING UPDATE
You may be aware that over the last few weeks several villagers have been sewing scrubs and laundry bags for the NHS through a scheme in Uppingham called Uppstitch coordinated by Liz Clarke. 
Thank you to Bernadette, Bev, Diana, Kirsten, Philippa, Sue, Chris and Claire who have to date made about 30 scrubs & several bags, with  Susie kindly acting as courier to Uppingham and back.
The JustGiving page has raised £2,471 to buy fabric with over 275 scrubs distributed to all the Care homes in Uppingham, Glenfield Hospital, Corby Urgent Care Centre and even as far as Manchester. In addition to the bought fabric they have been made from old duvets, curtains and bedding.
Donations can be made to: Just Giving.
Although it is a small contribution it is very gratifying to know they are greatly appreciated and very much needed.There is still a demand for them and we are still sewing away. 
If you would like to help, contact Sue Reading on 747 664.
Rutland Gourmet Ltd
Ready Meals, Grocery Packs, Afternoon Tea Boxes and Fish & Chips
Following on from the great success of our Fish & Chip takeaway on Friday, we will be frying again on Friday 15th May.  You can book a 15 minute slot for pick up any time from 5.00pm – 8.00pm and once again we will be offering battered cod and hand cut triple cooked chips at £8.00 with mushy peas £1.00 and home made tartare sauce 75p.
I am also doing the Afternoon Tea boxes for your VE Day celebrations for delivery on Friday or Saturday to include four finger sandwiches on white and granary bread (egg mayonnaise and cress, salmon and cucumber, ham and tomato, cheese and red onion), a home made quiche Lorraine tartlette , freshly baked scone with jam and clotted cream, 2 slices homemade sponge, £10.00 per person.
This weeks main course special is pork and beef meatballs with 'Ikea' inspired sauce. If you haven't had it before, it's a cream sauce made with beef stock and mustard and works really well on some pasta.
Call 01572 747 909, 07970 576 882 or email sarah@rutlandgourmet.co.uk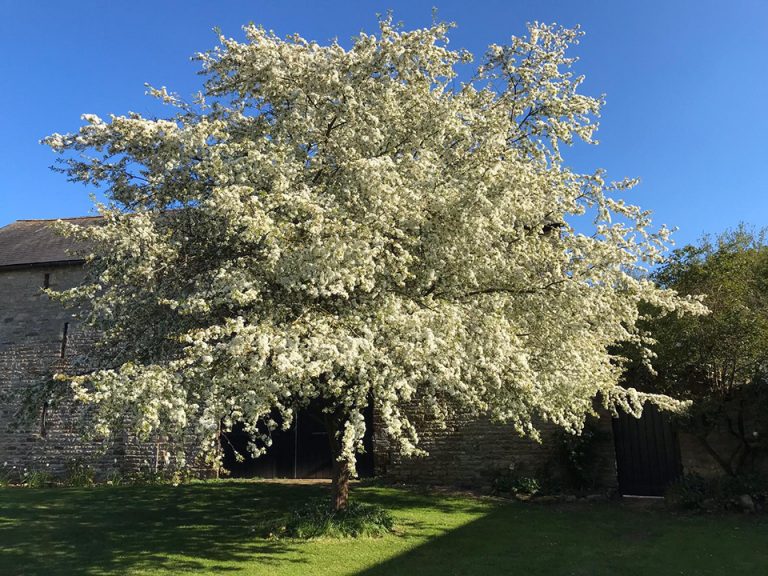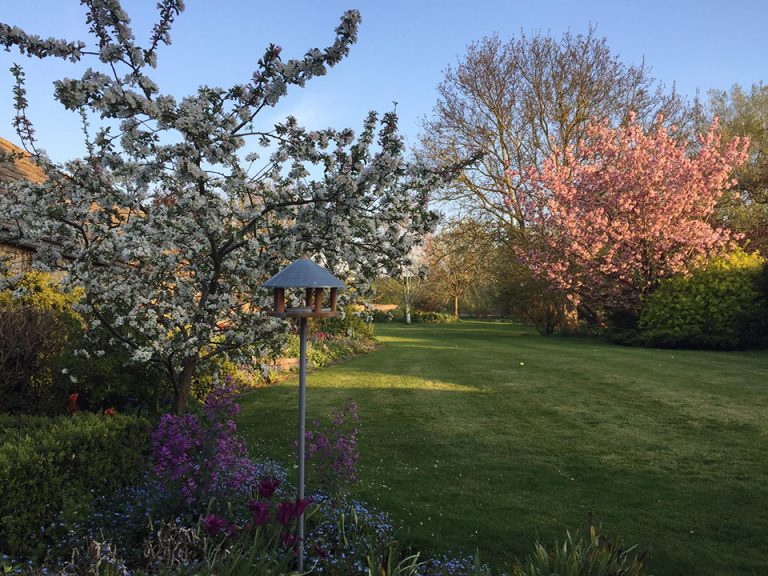 Harringworth Gardening Group News
Thank goodness for gardening, in this extraordinary year more than ever! The sale of veg strips was a great success and should ensure that we are picking actual food before long. We've already been doing plenty of swapping of seedlings and plants and sharing tips via the WhatsApp group and it's working well.
Please share any ideas for anything else we could be doing during this time. If anyone needs gardening-related help, do shout. If you are ill and need someone to water, ask. If you need plants or seeds, or advice, or to share an order with Welland Vale Garden Centre (free deliveries to Harringworth) or just someone to rant at when slugs eat your brassicas, the group is here!
New members are welcome. Contact Nicola Morgan on n@nicolamorgan.co.uk if you wish to know more about the group or to join the Gardening WhatsApp. Enjoy your gardens!