RAILWAY WALK MEMORIES BY JOHN HUGHES
Our country walking area has inherited a rich legacy of disused railways.  Many of the old stone bridges are still in use today. Many of the fine old Victorian stations (often built in local stone) have been renovated for private use. Many of the old track-beds now create miles of wildlife havens.
It was all so different back in the 1840's when it seemed commercial suicide to run a business in an area without trains. But our 'country railways' provided more than just transport. They became part of the district they served with their own natural history, legends, folklore, and jobs for several generations.
The most successful lines had regular mineral or manufactured-goods traffic. Goods traffic brought in three times more revenue than passengers in most country areas. In the heady 'railwaymania' days traffic forecasting and railway running costs for new lines were nearly always exaggerated …….seems familiar, even today! Indeed, the railway may have brought prosperity to the country areas but rarely to the Directors and Officials!  
The village station was the new "in-place". Often major road improvements were made to it, often with pavements and gas lighting at the rate-payers expense! There then became more 'Station Roads' than 'Church Roads' in England and Wales! Everything came into the station from the 'outside' world: commodities, bicycles, farming machinery, cranes, mangles, books, newspapers, and most important the electric telegraph. The price of coal nearly always came down by a third with the opening of a line. Every station had its coal siding where the locals and coal-merchants brought their horses and carts and filled up their bags! The guards van on country trains carried EVERYTHING from passengers' belongings, bottled gas, pigs, chickens, fish, flowers, pigeons, food parcels and mail-bags. Farmers were now able to send their produce and livestock to markets afar.
Local people could now travel to new places. Led by Queen Victoria, the railways brought and enabled a new realisation of the beauty and variety of the British Isles. The pair of rails disappearing over the horizon stood for progress, and overseas, they opened up Continents. In England and Wales by 1910 even the smallest hamlet was usually within 20 miles of the railway.
The railways had the greatest impact on the country landscape since the revolution in basic agriculture.
I hope everybody enjoys reading these brief memories below of just seven of our railway haunts in our walking area. The railway opened up many of our local towns and villages to the wider world for passenger travel, freight, and minerals, notably iron-ore and coal. I hope the insights below add to your walking pleasure.
Stations reviewed: 
Hallaton
Medbourne
Lowesby
Barnack
Wansford
Seaton
Uppingham
Abbreviations:
LNWR – London & North Western Railway
MR – Midland Railway
GNR – Great Northern Railway
NVR – Nene Valley Railway
BR – British Railways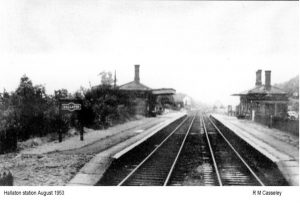 Hallaton railway station was opened in 1879 as part of the Great Northern & London and North Western Joint Railway which ran from Bottesford and Saxondale Junction to Melton Mowbray and Market Harborough. The two railway companies combined to exploit the iron ore and agricultural resources in Leicestershire. Also the LNWR wanted to transport coal from Nottinghamshire to London via Market Harborough and Northampton. The GN wanted to move people from Leicester to Peterborough, Grantham, Northampton, and the East Coast Resorts at Skegness and Mablethorpe.
The station was located about a quarter of a mile east of the village on the road to Horninghold. Most traffic went to Market Harborough.  Every year special trains brought spectators to the Hallaton Easter bottle-kicking ritual. The station opened in 1879 and closed to regular traffic in 1957. The Leicester to Peterborough service was withdrawn in 1916. We are still able to walk about a mile of the track bed from Hallaton to the end of East Norton tunnel with four over bridges still remaining.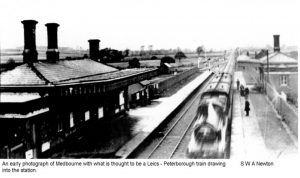 Medbourne only got a railway because the GNR wanted to run trains direct from Leicester to Peterborough without going through Stamford! To achieve this, a loop was laid just south of Hallaton to a junction with the Rugby to Seaton line at Drayton. The line opened in 1883 and was doubled in 1899. The picture shows the nice station buildings at Medbourne with a GNR express locomotive going to Peterborough. All the station buildings are gone (partly destroyed by fire) but the original stone road bridge over the old track bed still carries the traffic to Hallaton.
Passenger takings fell away and the line was single tracked all the way to Drayton Junction in 1906 and the east platform and station building was removed.  Passenger services to Peter borough, and other traffic, ceased in April, 1916 and were never re-instated again after WWl. Part of the old line was then used for wagon storage.   
Just East of Medbourne was the Neville Holt iron-ore quarry which never produced much during its lifespan between 1861-1874. A narrow-gauge railway brought the ironstone down the south side of the hill and over the river Welland. It was then tipped into standard gauge railway waggons on a short branch from the LNWR line from Market Harborough to Seaton. (At this time the loop between Medbourne and Drayton Junction had not been built).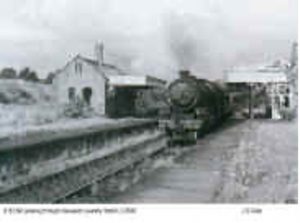 Rails came to LOWESBY when the GNR Railway decided to build a branch line to Leicester from the LNWR/GNR LINE from Melton Mowbray to Market Harborough. The connection was made from a triangular junction at the village of Marefield and went 12 miles to a large new 6 platform station Terminus called Leicester Belgrave. Trains ran on this line from 1882 to 1962 and went to Peterborough, Northampton, Grantham, and Newark. This line is best remembered for its summer only seaside excursions most notably between 1950 and 1962 which ran to Mablethorpe and Skegness (via Melton Mowbray and Bottesford). Our picture above shows British Railways locomotive 61390 on one of these excursions to Mablethorpe in August, 1960 – 25mph was the maximum speed on this branch by this time! 
Lowesby station closed to normal passenger traffic in December 1953 and has now been renovated as a private dwelling with many of its original features. The Leicester Belgrave Terminus station closed for passenger services in 1962. The Leicester station site has now been developed as a Sainsbury supermarket with adjoining car park and roads.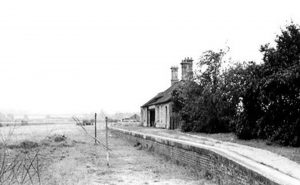 Barnack has the distinction of being on the first railway line to close in our walking area! The LNER beat Dr. Beeching with the axe in 1931.
Barnack received its single track railway line on 9 August 1867 when the Marquis of Exeter built his line from Stamford to Wansford. Barnack had one of the few level-crossings on this 8 mile line; nearly all the other roads were bridged as at Ufford and Uffington.  The line was always impoverished and had to persevere with a motley selection of second-hand locomotives and rolling stock. Passenger services finished on 1 July 1929. Total closure came in 1931 after much opposition from local farmers who used the line more than anybody else. The station and certain outbuildings have been converted to private and industrial use.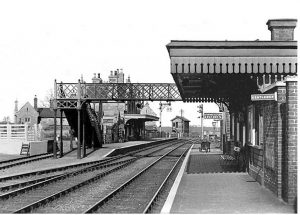 Rails came to Wansford in 1845 when then Northampton and Peterborough Railway decided to build a 47 mile line from Blisworth to Peterborough via Northampton, Wellingborough and Oundle. Following the flat levels of the river Nene the line was engineered by Robert Stevenson and George Bidder and built in just over a year. The architecture on the lines larger stations was very ornate as can be seen with the still-existing station buildings at Wansford and Oundle. This was the first railway to reach Peterborough and it was taken over by the LNWR and double tracked in 1846. It was also equipped with the electric telegraph ….very up-to-date at the time!
Wansford then developed further into a double junction station. In August 1867 the Marquis of Exeter built a single track line from Stamford to Wansford via Barnack. This was because he stopped the Great Northern line going through Stamford and in effect cut off cross country rail links. He then tried to put this right by building branch lines from Stamford to Wansford, and Stamford to Essendine. The Stamford trains used the North Bay to the left hand-side of the footbridge in the above picture. At this time Stamford was slightly bigger and considered more important than Peterborough. The branch closed for passenger traffic in July, 1929. Waggons were stored on the south end of the line up to Wansford Road station into the late 1950's.   
In 1879 the LNWR decided to extend the main line from Rugby and Seaton through Kings Cliffe to Yarwell Junction next to Wansford. This allowed the LNWR to run trains from Rugby and Leicester to Peterborough on their own rails and not use the Midland Railway tracks through Stamford. This line was closed to passenger traffic in 1966 during the Beeching cutbacks. Final closure of the Peterborough to Northampton line came in 1972 with the cessation of freight traffic to Oundle…. now all hauled by diesels.
The Nassington iron-stone traffic ceased in 1971 having despatched over 10 million tons of ironstone since opening in 1939. It was the only ironstone quarry in the UK to use steam locomotives to the end. The BR line from Yarwell to Nassington was lifted in June 1977.
Wansford had a new lease of life in March, 1974 when the Peterborough Development Corporation bought part of the line from (Orton) Longueville Junction to Yarwell. This became the Nene Valley Railway which started passenger services in June, 1977. In 1974 part of the track had to be reinstated on the Fletton loop from Longueville Junction to link up with main line near Peterborough. This single track loop has now just been bought by the NVR. It allows access for locomotives and trains for Gala Days and for servicing a growing variety of rail-mounted equipment at the NVR Engineering HQ at Wansford. Two of the James Bond films, Octopussy and Goldeneye, had train scenes shot at the Nene Valley Railway.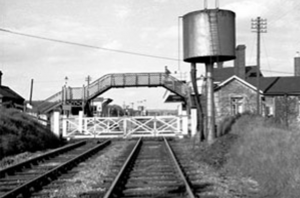 Seaton had the distinction of hosting the very last steam-hauled push-and-pull train service to run on British Railways. The last train ran from Stamford to Seaton on Saturday, October 2, 1965 hauled by BR locomotive 41212. A diesel railcar continued this service until June, 1966.
Seaton station was on a long stretch of straight line between Rockingham and Luffenham Junction. On opening a local resident remarked, "Why can't they build the roads as straight as this in Seaton!"
Seaton found itself on the LNWR Rugby to Stamford railway line in 1851 with trains running through to Peterborough on the Midland Railway lines. It was originally built as a double-track (main) line with a 448 yard tunnel at Morcott.
It became a junction station in 1879 when the LNWR built an 11 mile loop to Yarwell Junction near Wansford to link up with its own LNWR line from Northampton to Peterborough. This was a difficult line to construct with a 1 in 90 ruling gradient across country via Wakerley & Barrowden, Kings Cliffe, and Nassington. This took 15 miles off the journey to Peterborough. For many years this was a main line route and the Boat Train travelled along it from Harwich to Liverpool. With this line opened the track from Seaton through Morcott to Luffenham Junction (for Stamford) was singled.
Seaton became a double junction in 1891 with the opening of the single-line branch to Uppingham (see notes on Uppingham below).
The branch lines to Uppingham and Stamford were worked by two locos which shared a single road loco shed. This was the only loco shed in Rutland! Over the years many different locomotives worked these trains from the main depots at Rugby, Market Harborough and latterly from Peterborough. Many of these trains in later years were fitted for push-and-pull working.
The Uppingham branch closed in 1964. The Stamford branch and the Rugby to Peterborough line closed in 1966 as part of the Beeching closures. Seaton station and its footbridge still survive as a scrap metal business.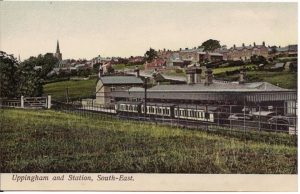 Uppingham is unique in our walking area because it was a terminus station. Indeed, after opening, an old lady asked the Stationmaster "Does the train stop here?" He replied "if it doesn't there will be a bloody big crash!"
With the Rugby to Stamford line in 1851 and the Midland line over Harringworth Viaduct in 1879, the population of Uppingham (approx. 2500) were getting concerned about having no rail line. Two problems were the difficult terrain (costly) and that it would be a terminus (not a through route) station.
Local dignitaries met at the Falcon Hotel, Uppingham, in December, 1886 to draw up a proposition to the LNWR for a line from Seaton. The town would start raising subscriptions in 1888 and then agree with LNWR to start constructing the 3.5 mile line in 1891. The single-track line opened for freight and regular passenger trains in 1894. From 1912 to 1924 a short iron-stone quarry line fed the branch. It was made viable by the rocketing price of iron-ore required for ships and armaments in World War l. After 1924 the quarry was used as the Town's refuse dump for 60 years before levelling and top-soiling. One of its steam locomotives is preserved at The Railway Museum near Cottesmore.
All passenger trains were push-and-pull operated in the final years with locomotives being stabled at Seaton.
Passenger trains finished in June, 1960 but goods and Uppingham school trains continued until June 1964. Uppingham station (see above picture) had only one platform and was mainly constructed of wood. It has now vanished under a light industrial estate but its 7-arch viaduct still endures and can be seen from Seaton Road.
We would like to thank Glyn Dobbs for these lovely photographs which were taken in 2004.