IN MEMORY OF TROOPER SAMUEL FRANK EDMONDS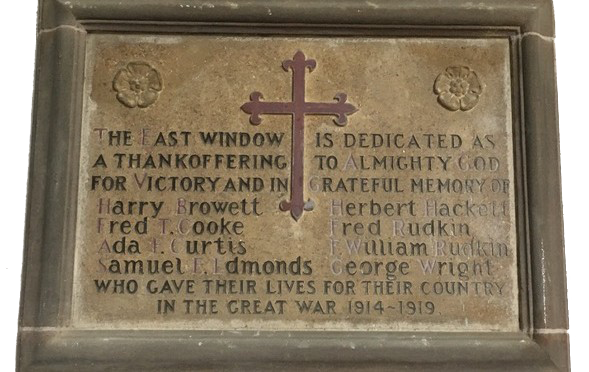 The memorial to the fallen of WW1 in St John the Baptist Church Harringworth
Trooper Samuel Frank Edmonds
209, "C" Squadron, East African Mounted Rifles who died on 25 September 1914 (age 35)
Son of the Rev. Francis Samuel Edmonds, M.A., of Foxton Vicarage, Market Harborough, and of Marguerite L. Edmonds, formerly of Le Valnord, Guernsey. Educated at Sidney Sussex College, Cambs. For ten years Science Instructor at Dartmouth Naval College.
Remembered with Honour Nairobi British and Indian Memorial.
SAMUEL F EDMONDS, 25 SEPTEMBER 1914
The first Old Oundelian to be killed in The Great War was Samuel Frank Edmonds (Lx 1893). He captained the School cricket XI in 1898, was a forward in the 1st XV and was also a school prefect. A leading member of the Science Sixth, he won numerous school prizes for science, was on the committee of the newly founded Oundle School Science Society and won a scholarship to Sidney Sussex College, Cambridge. He took a first in Part One of the Natural Sciences Tripos in 1901 and rowed in the college 1st boat.
After a year as a school master at Bradford Grammar School, he joined the navy, training at the Royal Naval Colleges at Osborne and Dartmouth. For ten years he was then science instructor at Dartmouth. At the end of 1912, he left Dartmouth for what was then known as the British East African Protectorate (modern day Kenya). At the outbreak of war, he enlisted as a private in the East African Mounted Rifles. He was killed (aged 35) just seven weeks later, on 25 September 1914, when his squadron of the East African Mounted Rifles, just 30 in number, attacked a force of 35 Germans and 150 Africans which had crossed the border from German East Africa. The German force had two maxim guns, and after a sharp encounter both sides retreated. Eight men were killed and four wounded among the British force. The official history of the skirmish concluded that the action in which Samuel Edmonds died was a victory. "Since the enemy had abandoned his enterprise, which was directed presumably against the Magadi branch railway, the East African Mounted Rifles had every reason for satisfaction."
He is commemorated on the British and Indian memorial in Nairobi, as he has no known grave. The central panel of the memorial is inscribed with these words: "Here are recorded the names of officers and men who fell in East Africa, to whom the fortune of war denied the known and honoured burial given to their comrades in death."
Samuel Edmonds is also remembered on a stone plaque in Loxton Church in Northamptonshire, where his father was vicar. The memorial ends with the words: "They counted not their lives dear unto them." C Pendrill
 Yarrow Fellow.
Article from Western Daily Press 6th October 1914
COURAGEOUS GARRISON OF 30
News has been received fighting took place on September 25thbetween the Magadi railway and the frontier. It appears that a German force of about 35 Europeans and 150 natives, with two Maxim guns, attacked a body of East African Mounted Rifles (C Squadron), only 30 in number, commanded by Captain Chapman.
After one hour's severe fighting in thick bush country, the enemy were repulsed, and retired hastily towards Longido. Their casualties are said to be 36 (11 dead), and in the hurry of their retreat they left behind them many loads. In this plucky fight the casualties of the East African Mounted Rifles were : Killed F. C. Butler, A.J.D. Burgess, A.C. Burridge, S.F. Edmonds, L.J. Elliott, A.C. Forrester, A.Impey, and W.T. Somerville. Wounded : E.W. Adams, J.F. Burgess, L.G. Evans, and C. Wright. It is stated by the Governor that none of the wounded is severely wounded.
The most recent fighting of which information has reached the Secretary of State occurred at Mulma near the Travo River, on September 26th. A strong force of the enemy, including 50 Europeans with six Maxims, attacked a British force, consisting of the Kings African Rifles, under the command of Captain A.C. Saunders (Duke of Cornwall's light infantry). The enemy were repulsed, and retired leaving 17 natives killed, and there is reason to believe that they suffered heavy losses among the Europeans asttached to their force. The British casualties were two natives wounded.